Wade visits Crean, helps guide Heat's game 4 turnaround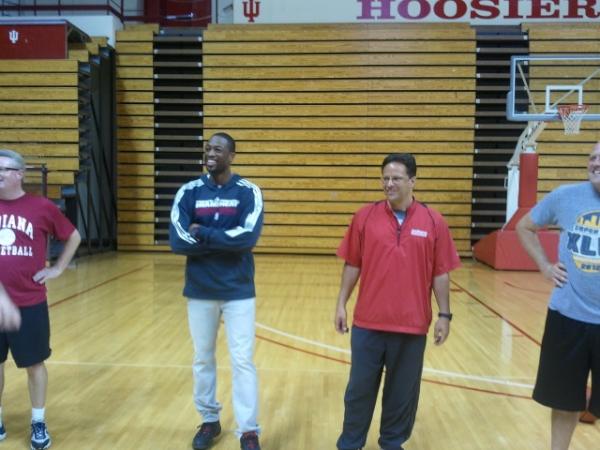 With two off days between Thursday's game three loss to the Indiana Pacers in the Eastern Conference semifinals and game four on Sunday at Bankers Life Fieldhouse, Miami Heat guard Dwyane Wade ventured a hour south to Bloomington on Friday afternoon to visit with Tom Crean.
Crean coached Wade for two seasons at Marquette and in 2002-2003, the Golden Eagles reached the Final Four for the first time since 1977.
Wade was a first team All-American in the Final Four season and went on to become the 5th overall pick in the 2003 NBA Draft.
Following a performance of 30 points, nine rebounds and six assists that helped push Miami past the Pacers 101-93, the Heat guard talked about the trip to Indiana and the importance of his time with Crean.
"I really spent time with a mentor of mine, a father figure and had a long day and long hours of just conversation, just talking about a lot of things," Wade told reporters. "So it was great for me to just get away and kind of get that energy that I needed from him."
Wade, who shot just 2-of-13 from the field in Thursday's 94-75 loss to the Pacers, said that Crean had film prepared for the two to watch together on Friday.
"They've got a great team up there (at Indiana), so he had film for me of my missed shots and my made shots so I can see it, so I can see both," Wade said with a smile.
It was the eight time NBA All-Star's first trip to Bloomington.
"First time there, great place, really nice campus," he said.
Here's postgame video of Wade, where he talks about his time at IU and with Crean:
(Photo credit: Rob Louthain on Twitter)
Filed to: Dwyane Wade, Tom Crean