Stanford Robinson joins Indiana's 2013 recruiting class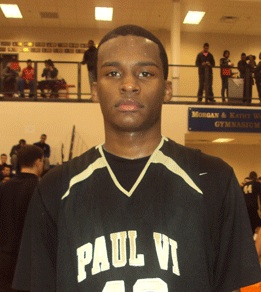 As of Tuesday night, Stanford Robinson planned to reach a decision on where he would spend his college career later this week.
But as he sat down and gave it more thought on Wednesday, the junior guard from Paul VI Catholic in Fairfax, Virginia realized he ready to make the call.
Robinson committed to Indiana just two days after taking an unofficial visit to Bloomington.
He's the fourth commitment in the Hoosiers' 2013 recruiting class. Robinson chose Indiana over Maryland, Rutgers, Texas and Villanova.
"When I was coming back on the plane with my mom, we talked about it and we felt like Indiana was the right choice," Robinson told Inside the Hall. "So we sat down today with my coaches, my high school coach and my AAU coach, to make sure I wasn't trying to commit off of a feeling."
After those conversations, which included answering questions from his coaches about why he wanted to attend IU, Robinson was comfortable with his choice to become a Hoosier.
"I felt comfortable, my parents felt comfortable and my little brother also played a big part in it as well," he said.
The left-handed guard, who has known new IU assistant coach Kenny Johnson since eighth grade, said shortly after his unofficial visit that Tom Crean had a great plan for how he'll fit in the program.
Robinson talked about that plan shortly after making his decision.
"He (Crean) told me he wanted me to be ready to play a combo guard, to be ready to play the two and the one and just be ready to play a fast tempo," Robinson said. "This is how he wants to play, he wants to play an up-tempo game and I feel like that will be a great fit for me because this is what we do on my AAU team and my high school team."
Robinson is primarily a shooting guard for Team Takeover, his AAU team, but said he expects to play point guard next high school season.
BeeJay Anya, a close friend and AAU teammate of Robinson, is one of IU's remaining 2013 recruiting targets. He said he "definitely will" get into Anya's ear about joining him in Bloomington.
Ryan Corazza contributed to this report.
Filed to: Stanford Robinson