Robinson talks Bloomington visit, timetable for decision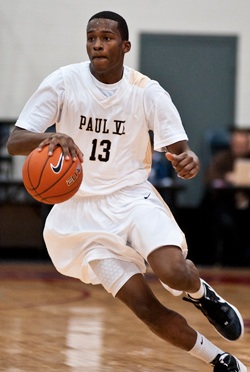 2013 Paul VI Catholic guard Stanford Robinson made his first trip to Bloomington on Monday.
He left with nothing but positive things to say about the overall experience.
"We got to see a lot of the campus, the Student Union, Assembly Hall, the practice facility," Robinson told Inside the Hall on Tuesday night. "We played open gym and saw the dorms. It was a good experience. The coaches were real friendly. I could see myself having a great relationship with the coaches. And then I had one of my former coaches down there, Coach (Kenny) Johnson."
The 6-foot-4 guard, rated the No. 46 player nationally according to ESPN.com, says that IU's newest assistant was a big factor in his decision to attend Paul VI in Fairfax, Virginia.
"Coach Johnson is the reason I'm at Paul VI High School right now," Robinson said. "He was there as the head assistant coach and he recruited me to come to Paul VI. But I've actually known Johnson since I was in the eighth grade."
Beyond the familiarity with Johnson, Robinson's relationships with Tom Crean and Victor Oladipo have the Hoosiers in a favorable position.
"Coach Crean is a great coach and he's high energy. That's what I like about him," he said. "He was very positive and it was great to have some conversations with Coach Crean. He has a great plan for me.
"Me and Victor are like brothers. He's like a role model to me when he comes in the high school. He's one of the hardest working guys I know."
After a broken nose forced him to miss the first EYBL session in Minneapolis, Robinson has progressed over the last two sessions in Hampton and in Dallas, where he averaged 13.4 points and shot 55 percent from the field.
Team Takeover, which also includes another IU recruiting target in DeMatha forward BeeJay Anya, finished the EYBL Dallas session 5-0.
"Since I've been back from the injury, I feel like I'm being more aggressive every game," the left-handed guard said. "I'm getting stronger every game."
The next step in the process for Robinson, who can sign a National Letter of Intent in November, may be coming sooner than he originally planned.
He plans to sit down with his family and coaches this week and said a decision could come by Friday.
"I could definitely see myself up there (at Indiana) because of the relationship me and Coach Johnson have. I would always have somebody there to support me and keep me pushing. Coach Crean is a great guy, a family type guy. I could definitely see myself going there because the coaches felt like family and I had great conversations with the coaches. I feel like we could build a great relationship.
"Indiana's definitely high in my decision, but so is Villanova and some other schools."
Filed to: Stanford Robinson