Elite 2015 point guard recaps unofficial visit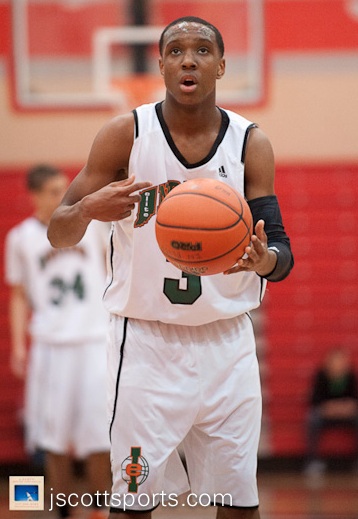 Friday wasn't the first opportunity for 2015 East Chicago Central point guard Hyron Edwards to visit Bloomington, but it was the first chance for one of the state's top underclassmen to get an in-depth look at the campus.
Edwards, in town to play for Indiana Elite Team Indiana in the adidas May Classic, spent Friday evening getting familiar with one of the two schools that has already offered him a scholarship.
"It was great. I toured the campus with all of the coaches," Edwards said on Saturday morning. "We rode around in a golf cart and they told me about the business school. I saw the weight room, the business school, the arts school, all of that. We saw the football stadium, tennis courts."
The visit was just days after an unofficial trip to West Lafayette to check out Purdue, the other school with an early offer out to Edwards.
"Purdue, it was pretty great," Edwards said "It's not like IU though, it's not like IU."
The difference? Facilities, which are a positive for IU, according to Edwards.
"Difference is, like the weight room at Purdue, they've got a lot of football stuff in the weight room," he said. "IU has one just for the basketball team."
The recruiting pitches from IU and Purdue are also different as the Hoosier staff views Edwards as a point guard and the Boilermaker staff covets him as a combo guard.
The uptempo pace of play Tom Crean has implemented is something the young point guard believes fits his game well.
"They talked to me about the offense. They said I would fit great in their offense," Edwards said. "They have some great guards in Jordan Hulls and Yogi Ferrell. They like to run, get ball screens and shoot, things that I like to do in my game.
"I like to come off ball screens, attack the rim, (play on the) fast break, get the ball off the rim and go. Just like IU does. I've seen the tapes of them from last season."
Besides the two in-state rivals, Illinois, Michigan, Michigan State, Northwestern and Xavier are also recruiting Edwards. He hopes to visit Illinois, Michigan and Michigan State this summer.
While he's enjoying the early attention, an early decision seems unlikely despite a push from Purdue to end the process early.
"It's pretty great," Edwards said. "I didn't expect all of this to come so soon, my freshman year. I thought it was going to come my sophomore or junior year. I like it.
"I'm just striving to get better. I'll make my decision like my junior or early senior year. I'm trying to get better."
Filed to: Hyron Edwards