2014 Illinois forward Malek Harris excited by IU interest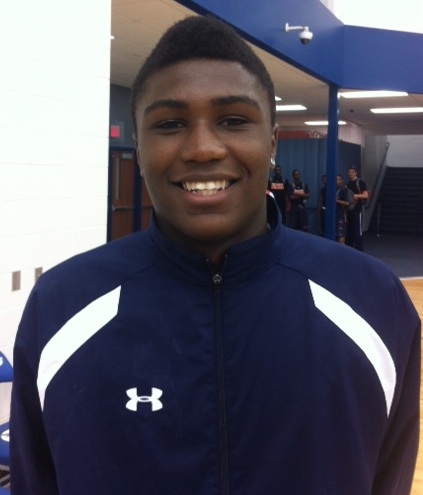 FORT WAYNE, Ind. — He's only been hearing from Indiana for a little over two weeks, but it hasn't taken long for 2014 Orland Park (IL) forward Malek Harris to become intrigued with the Hoosiers.
The 6-foot-7 forward, who averaged 10 points and eight rebounds as a sophomore at Sandburg High School, caught the eye of the IU staff at the Spring Showdown in Merrillville.
Shortly after Harris' exposure at the event, he had a conversation with Tom Crean.
"When I talked to Coach Tom Crean, he said that he liked the way I play, my versatility, the way I play hard and my court awareness," Harris told Inside the Hall. "He liked a lot of the little things I was doing. Of course I'm happy. It's one of the best schools in the nation."
Harris missed the Bill Hensley Memorial Run-N-Slam with a sprained ankle, but attended the event to support his Illinois Wolves teammates.
His strong play so far this spring has resulted in a recent offer from a Big Ten program and interest from several other high major programs.
"Iowa just offered me," he said. "Miami (OH) and DePaul, I've received offers from them. Purdue, Louisville, Nebraska and Illinois (are showing interest)."
Harris said he plans to call down to Bloomington this week to set up an unofficial visit for later this month. While the interest between both sides is still relatively new, it's clear that attention from one of college basketball's bluebloods is exciting for Harris.
"Of course, us as players, we see it (the turnaround season) and we know they're a great team," he said. "Even if it wasn't like that this year, even if they didn't have such a great season, it's still Indiana University. A Division I school for basketball is great either way, but of course, since they did have such a great season, you look at it and are like 'wow.' They have a great head coach, a great coaching staff and great players like Cody Zeller. It makes you look higher at them. Either way, it's Indiana University."
With his recruitment still in its early stages, Harris' focus this spring and summer is continuing to improve in nearly every facet of the game.
"I just want to be able to have an all-around game," he said. "It doesn't matter who is guarding me or who I'm playing against, I want to have a move to go to or be somewhere on the floor and be productive where I am.
"Right now, I feel like my strength is defense. I strive off defense, if I'm having a good game with my energy on defense and moving around, then usually my game goes better. If I'm not playing with energy, then I shouldn't even be out on the floor. I can finish around the rim, I can definitely get better. I'm trying to start dunking on people. I'm trying to get my hops up; I'm doing a lot of jump training."
Filed to: Malek Harris