James Blackmon Jr. getting stronger during recovery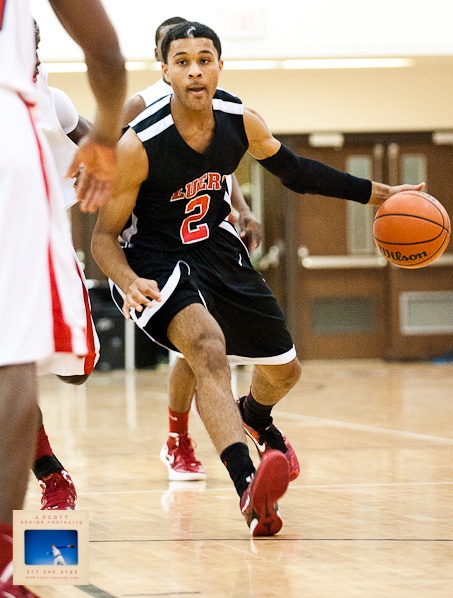 FORT WAYNE, Ind. — Just eight weeks after undergoing successful surgery to repair a torn left ACL, 2014 Ft. Wayne Luers guard James Blackmon Jr. is beginning to see significant progress in his journey back to the floor.
The 6-foot-3 guard, who committed to Indiana in September of 2010, was averaging over 25 points and five rebounds per game as a sophomore before hurting his knee in a loss to Indianapolis Tech on Feb. 4.
"Right now I'm just working with my trainer every day after school," Blackmon told Inside the Hall on Friday. "It's been eight weeks, so I can do a lot more things like start shooting in the gym and stuff like that, so it's getting better everyday."
Because he's still very limited in what he can do on the court, Blackmon is putting in extra effort in the weight room which could end up being a blessing in disguise for his physical development.
"Upper body weights is what I've been doing a lot, so this injury could actually help me some," he said. "I've been getting stronger with the upper body and lifting a lot."
Blackmon watched his Spiece Indy Heat teammates from the bench at this past weekend's Bill Hensley Memorial Run-N-Slam and he admitted it was tough not being on the floor for one of the spring's premier events.
"I mean it's real hard, because you always want to be out there," Blackmon said. "But I've just been letting it go, and just thinking if I work hard, I can be right back out there with my teammates."
The future Indiana guard is not expected to play at all this summer, although he could resume non-contact basketball activities in as little as two weeks.
He plans to begin running at that time and begin doing plyometrics, but is going to take his time in hopes of being 100 percent by the start of next high school season. Blackmon said Zach Randolph of the Memphis Grizzlies, who recently rehabbed from a torn MCL, has encouraged him to ensure the knee is fully healed before returning.
"First, I just want to be able to run and jump like I could, cause I don't want to lose any of that ability," he said. "So I'll probably be working on that a lot more, and then after that, I'll just be working hard on the defense and just getting back to where I was. I really don't have a target date (to come back fully), but I have a target date for like what I want to do to get better."
Filed to: James Blackmon Jr.