Indiana makes right call in ending Kentucky series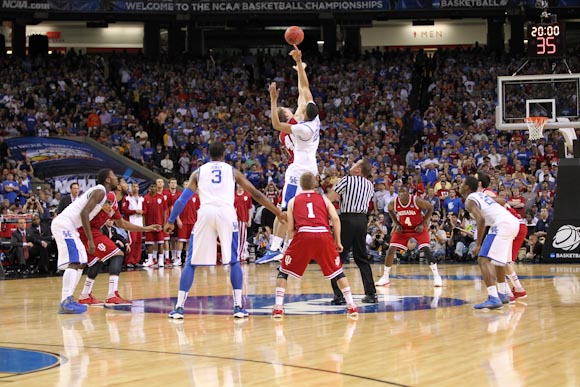 The news on Thursday afternoon that Indiana and Kentucky would not renew their annual meeting beyond this season came as little surprise to those have been monitoring the comments coming from both camps for several months.
Mitch Barnhart, the Athletics Director at Kentucky, and John Calipari had been pushing Fred Glass and Tom Crean to return the game to a neutral site. Glass and Crean, meanwhile, were steadfast in their belief that the game should continue in Assembly Hall and Rupp Arena.
Last December's game in Bloomington only solidified that belief from the IU perspective. The atmosphere produced was something Indiana built on for the rest of the season, beating Ohio State, Michigan State and Purdue at home, recreating the home court advantage that had long existed at Assembly Hall.
And so as the days passed by and it became apparent that both parties had their feet firmly entrenched in the sand, Indiana ended the stare-off rather than letting it drag out any longer.
"While we understand that such neutral site games could be quite lucrative, we think the series should be continued as it is, home and home," Glass said in a release. "Playing on campus enables our students to attend these marquee games which we believe is a great component of the overall college experience. Playing in the historic venues that are Assembly Hall and Rupp Arena is also a tremendous experience for our student-athletes."
The immediate reaction from fans and media alike, of course, was disappointment.
Some argued that both sides should have done more to keep the game alive. The word "compromise" was tossed around by critics of both athletic departments and coaches.
Ultimately, Indiana had no compelling reason, besides money, to move the game away from Assembly Hall and Rupp Arena. On principle alone, that was enough to walk away without caving to Kentucky's demands.
When you dig a little deeper into some of the rationale being cited for moving the game to neutral sites, it becomes even more clear that Indiana did the right thing in holding its ground.
Barnhart told a group of reporters that it was "a chance to sort of return to some of the games roots" by making a move to Lucas Oil Stadium in Indianapolis and Freedom Hall in Louisville.
The problem with that is one of those two aforementioned venues grossly outpaces the other as viable. Kentucky has not and likely never will get the go ahead for a regular season game in the KFC Yum! Center, so the grossly outdated Freedom Hall, which has fewer seats than Rupp Arena, would have been the choice.
Calipari later told ESPN.com's Andy Katz that Kentucky was willing to play both games in Indiana. "That means they don't want to play us," he told Katz.
Unjust fan behavior in Bloomington last December has also been discussed as a potential reason for Kentucky wanting to move the game away from Assembly Hall. Certainly the behavior of IU fans, which wouldn't have even been discussed had Christian Watford's shot not gone in, was no worse than the couches burning in the streets or the bullet that hospitalized a man in his 30s in the aftermath of Kentucky's NCAA Championship last month.
In the end, Indiana decided keeping the game in front of its own fans every other season at Assembly Hall was the most important factor and it's hard to argue the logic. Last season's game produced the best atmosphere of the regular season in college basketball that cannot be reproduced at a neutral site. Walking away from the rivalry now, even if it's just for a couple of years, could produce the birth of another great home-and-home series.
Barnhart and Calipari believed Indiana would blink first.
They didn't. And for that, give Indiana credit.
Filed to: Fred Glass, Kentucky Wildcats, Tom Crean