Monte Morris calls Indiana a "big part" of his recruitment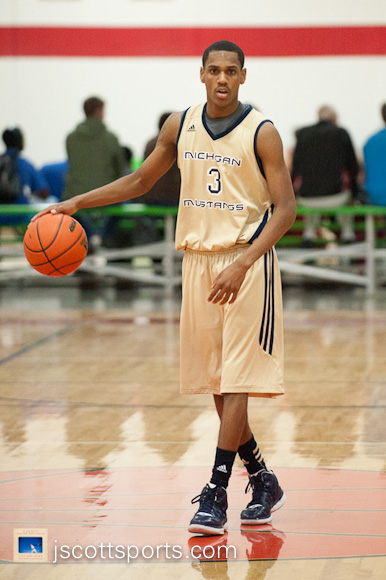 FISHERS, Ind. — Indiana has shown considerable interest in class of 2013 Michigan guard Monte Morris recently, and the feelings seem to be mutual.
Morris, who attends Beecher High School in Flint, said Indiana is very much a part of his recruitment.
The Hoosiers visited his high school in early April to watch one of his workouts, but they have yet to offer him a scholarship.
Indiana coach Tom Crean was on hand to see Morris' adidas Spring Classic game with the Michigan Mustangs at the Fishers Fieldhouse Saturday morning and Calbert Cheaney, who has been filling in for the departed Bennie Seltzer during the April evaluation periods, watched Morris on Sunday.
Morris and the Mustangs fell to Luke Fischer and Wisconsin Swing 82-75 in the championship game of the 17-and-under Super Group. He finished with 24 points.
"They just started coming on," Morris said. "I talk to their coaching staff a lot, so it's good. They like the way I lead, and they say I can come in there and make an impact right away, play the combo guard next to Yogi [Ferrell].
"I really like their coaching staff and their program, the way their style of play is and everything. It's a big part of my recruitment."
Morris, ranked No. 48 in the class of 2013 by Scout.com and No. 82 by Rivals.com, said he already has offers from Georgia Tech, Rhode Island, Providence, USC, Boston College, Arizona State and Illinois.
Butler has also shown interest but has not yet offered him a scholarship.
Morris is scheduled to visit IU on May 4, and he said he'll try to make his decision by the end of the summer "if everything goes well."
Filed to: Monte Morris