2013 guard Demarcus Croaker hearing from Indiana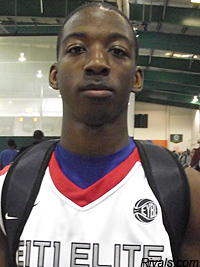 Demarcus Croaker's strong weekend at the adidas VIP Exclusive Run in Las Vegas has Indiana showing interest.
The 6-foot-3, 175-pound guard plays alongside a trio of five-star prospects (Kasey Hill, Chris Walker and Brannen Greene) for the Florida Rams, who won the tournament's 17-and-under division championship this past weekend.
According to Evan Daniels of Scout.com, Croaker was a breakout performer at the event, one in which IU assistant coach Tim Buckley attended.
"They've told me they like how aggressive I play, my style of play and that I know the game of basketball real well," Croaker told Inside the Hall on Wednesday night. "They let me know that they're going to be recruiting me from now on."
Croaker, a member of the 2013 class who plays at Jones High School in Orlando, has a lengthy list of schools showing interest — Florida, Florida State, Miami, Central Florida, Tennessee, Central Michigan, Virginia Tech, Georgia and Oklahoma.
While the interest from Indiana is recent, Croaker hopes to get up to speed on the Hoosiers quickly.
"I know Indiana has a really good basketball program, but I really don't know much about the school," Croaker said. "I told Coach Buckley I'm interested in learning more about the school and maybe even taking a visit during the summer."
At a Tuesday afternoon press conference, Tom Crean said the program's recruiting strategy for the 2013 and 2014 classes has been revamped after returning from Atlanta following the Sweet 16 loss.
Crean mentioned awareness, shooting ability, length, quick feet and versatility as some of the attributes the staff would be looking for while evaluating players.
"My biggest strength is in transition," Croaker said. "That's when I'm at my best. I'm athletic, long and can jump out of the gym. I'm very quick. One thing I'm working on a lot that college coaches saw last weekend is my jump shot and also my ability to handle the ball and just my overall basketball IQ."
Ultimately, Croaker said his college decision will come down to a combination of academics, potential for development and the relationship he builds with a coaching staff.
"Education must come first," Croaker said. "I want a school that will fit my style of play and that I know will develop me as a one or two or a combo guard. Just a school that has great coaches that I can get along with."
—
Here's a look at Croaker from a game this past season at Jones:
(Photo credit: Rivals.com)
Filed to: Demarcus Croaker