Crean "very optimistic" with progress of Maurice Creek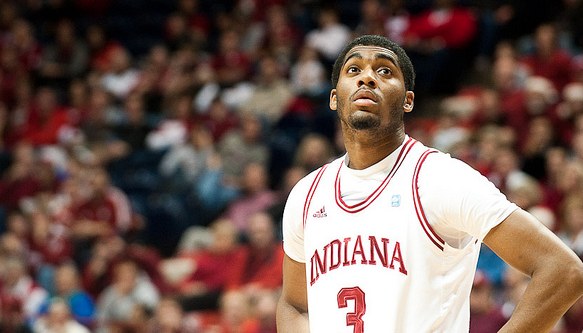 With all of the buzz surrounding the arrival of the 2012 recruiting class and five returning starters, the potential impact of a healthy Maurice Creek has been overlooked as Indiana is discussed as a preseason No. 1 team next winter.
But Creek is making significant progress as he recovers from his third major injury in less than 22 months.
"I'm very optimistic based on our three weeks of offseason, put it that way," Indiana coach Tom Crean said on Tuesday in his first offseason meeting with the media. "He's been doing the same things that the rest of them have been doing inside of how we've been working on the pick and roll, off screens and working through contact. He just hasn't been in live situations of going against his teammates."
Creek, who redshirted last season after tearing his left Achilles tendon, averaged a team-high 16.4 points as a freshman, but has never returned to the court at full strength after suffering knee injuries in his freshman and sophomore seasons.
Crean stressed that Creek must get in the gym more often as his rehab continues to progress.
"Maurice has got to become as hard of a worker as there is on the team. And that's not always been who he's been," Crean said. "That's who he's gotta be. He's gotta get into that Will Sheehey, Victor Oladipo, Jordan Hulls … I'm gonna be in the gym morning, noon and night type of mindset."
Creek told Inside the Hall he hoped to be back at full strength next season before IU's NCAA Tournament opener against New Mexico State at the Rose Garden in Portland.
"Rehab's going great, taking it one step at a time with Tim Garl and all of the trainers," he said. "[Strength and conditioning coach] Je'Ney Jackson is doing a real good job with me, keeping me strong in the legs."
The continued improvement of his lower body strength and regaining the shooting touch he displayed as a freshman will be two important factors if Creek hopes to crack a rotation that will be highly competitive for playing time.
"Certainly he's gotta get his lower body stronger as his lower body heals up completely," Crean said. "We're still fighting some of those things strength wise because of all of the different injuries he's had to his lower body. He needs to continue to build his upper body strength, but he needs to get back to being one of the best shooters in the country. Because when he got hurt the first time, that's basically where he was heading.
"And it wasn't like that his sophomore year because he just wasn't back enough yet. He's got to get into that mode because it's going to be very competitive for him. This is the time of the year when you can get a jump on that if you have some things that you can really fall back on. His ability to shoot the ball and play in pick and roll and things like that are going to be things that he's going to have to really do."
Filed to: Maurice Creek