Pair of 2015 guards highlight IndyBall.com standouts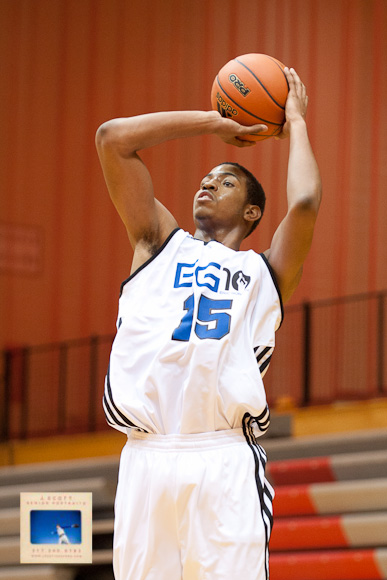 Inside the Hall kicked off our spring AAU coverage over the weekend at the IndyBall.com Shootout in Indianapolis. Just one IU commitment — Devin Davis — was present, but several 2014 and 2015 prospects (and even a 2016 prospect) the Hoosiers will be tracking in the coming years highlight our player evaluations:
Class of 2013
Devin Davis, SF/PF, Eric Gordon All-Stars: The Indiana commitment put on the type of performance we've come to expect from him after two years of following him on the circuit. Davis attacked opponents off the bounce, was outstanding on the offensive glass and played solid defensive in the paint as well as on the perimeter. He didn't shoot the ball much, but did display a reliable stroke from the charity stripe.
Class of 2014
Aaron Brennan, SF/PF, Fieldhouse Elite: The 6-foot-6 Brennan scored 25 points and led his team to a victory over the 2014 Eric Gordon All-Stars when ITH was in attendance. He showed great savvy in the post with a variety of moves and ways to score from mid-range and in. Brennan also has a reliable mid-range jumper when facing the basket. Two areas where the sophomore forward could improve are his ball-handling and defense.
Bryant McIntosh, PG/SG, 2014 Eric Gordon All-Stars: McIntosh looks to be much improved since we last watched him in July of 2011. The 6-foot-3 guard has a great stroke from deep, can score off the bounce using his craftiness, possesses great basketball IQ and makes heady plays as a passer and distributor. McIntosh has improved his athleticism and even threw down a dunk in a Saturday morning game. He could continue to improve on his strength and quickness.
Sean Sellers, SF, 2014 Eric Gordon All-Stars: Sellers had an impressive weekend while displaying his solid all-around game. He knocked down jumpers from deep, scored against opponents off the dribble, ran the break well, scored using the offensive glass and showed reliability at the free throw line. Like his teammate Bryant McIntosh, Sellers has worked and improve on his athleticism. Selleres also looked to be playing stronger than he did the last time we saw him, but could still stand to improve his strength and add bulk to his frame.
Jacob Johnson, SF, 2014 Eric Gordon All-Stars: Johnson, a 6-foot-6 wing from Mooresville, could be poised for a breakout AAU campaign. He didn't list Indiana as one of the schools recruiting him, but his play will certainly warrant the attention of college coaches this spring and summer. Johnson has great size, strength and athleticism and plays extremely hard on both ends of the floor. He runs the floor like a gazelle and crashes the boards with purpose. Johnson has a smooth shot from deep, but didn't shoot much this weekend, appearing somewhat passive at times. He'll definitely be a player to keep close tabs on as the AAU season progresses.
Class of 2015
Chandler White, SG, Indiana Elite Team Indiana: White impressed ITH in what was our first look at the 6-foot-2 guard. He excels as a slasher, where he uses his strong frame and athleticism to get to the rim consistently. White can finish with either hand around the basket, and embraces contact in the paint. The freshman guard appears to have a reliable shot from deep, although it may be a little streaky at this time. He also runs the floor well in transition and isn't afraid to get after it on the glass. One area where White could look to improve upon is his defense.
Hyron Edwards, PG, Indiana Elite Team Indiana: The 5-foot-10 Edwards, who played varsity at East Chicago Central as a freshman, is a smooth lead guard who combines a dose of quickness with ball control and heady play. He can break defenses down and distribute the ball, but usually plays under control and limits his mistakes when attacking the basket. Edwards is able to use his quickness to get to the rim and score, but can also knock down the mid-range jumper off the bounce. Perhaps his best quality is his outstanding on the ball defense, where he gives opponents fits and plays with outstanding effort. Edwards could look to improve upon his consistency when shooting the ball from long-range.
Brennan Gillis, PF, 2015 Eric Gordon All-Stars: Gillis is a tough forward who does most of his damage around the basket at this point. He has good touch around the rim, blocks and challenges shots in the paint and rebounds the ball well on both ends of the floor. Right now, Gillis' biggest weakness is his size (6-foot-6), and he could look to expand his game as a ball-handler and shooter.
Gary Bonds, PF, 2015 Spiece Indy Heat: The 6-foot-7 Bonds didn't list Indiana as a school interested in him, but he certainly looks to be a worthy prospect. Bonds is a long and athletic prospect who does a good job blocking and challenging shots on the defensive end. He also appears more skilled than when we last saw him in an October fall league. Bonds has range out to about 17 feet and is fluid when handling the ball and going towards the basket. Like any prospect, Bonds will have to get stronger, but he has the size, athleticism and instincts to be a prospect worth following.
Class of 2016
Eron Gordon, SG, 2015 Eric Gordon All-Stars: The younger brother of former Indiana star Eric Gordon put on a show this weekend. Eron, who will be a freshman next year at North Central, showed the ability to score in a variety ways. He has a smooth stroke from deep, gets to the rim and finishes against contact, has a reliable free throw stroke, fights hard for rebounds and runs the floor hard to finish in transition.
Filed to: Aaron Brennan, Chandler White, Devin Davis, Eron Gordon, Hyron Edwards