Fischer talks state title, looks ahead to leadership role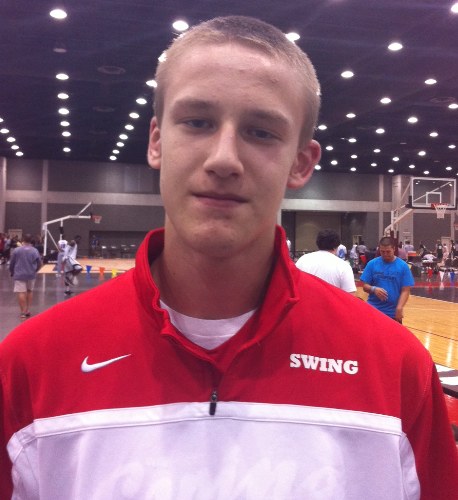 This AAU season feels a little bit different for Luke Fischer.
At this time last year, the Germantown, Wisc. native was still flying a bit under the radar. He was only a high school sophomore, and the bigger schools were just beginning to notice him.
As he begins this AAU season, though, Fischer does so with a considerable amount of weight off his shoulders. He committed to Indiana on Dec. 31, and he helped his high school team win its first ever state title in March.
Fischer's Germantown Warhawks went a perfect 28-0 and beat Milwaukee King in the championship game.
"It feels great to have all that hard work you've put in over the last 10 years pay off," Fischer told Inside The Hall. "Ever since we were like first graders playing together, we dreamed of winning a state title. I'm going to miss [this season] a lot. That was the best group of guys I've been with. It was something special."
Fischer's role will change for Germantown next year with the departure of Zak Showalter. The 6-10, 215-pound Fischer will have to carry much more of the offensive load.
"I'm going to be the guy being looked at more," Fischer said. "I'm not going to be the other good kid, I'm going to be the best kid on the team. I'm going to have to be more reliable making shots."
While Fischer was busy with his high school season for much of the winter, he said he and his friends followed IU's Sweet 16 run as closely as they could.
"It's crazy how fast it turned around for them," Fischer said. "And now, next year, there's talk for them to be No. 1. It's cool to say that you're a part of it, you know, in a way."
In the months since he committed, Fischer said more and more people have started calling him "that big kid from Germantown that's going to Indiana."
"People recognize me," he said. "I still get some crap around here for not waiting for Wisconsin or anything, but it's all in good fun. They all know deep down I wanted to go to Indiana so bad."
Fischer's AAU team, Wisconsin Swing, was in Milwaukee earlier this month for the NY2LA Swish 'N Dish Spring Warm Up, and will travel to Minneapolis and Indianapolis in the final two weekends of April to play in front of college coaches.
Filed to: Luke Fischer