Indiana-Kentucky: A position-by-position breakdown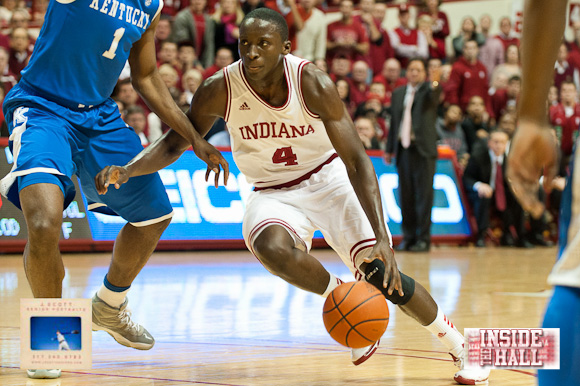 With the Indiana-Kentucky rematch only two days away, here's a look at the position-by-position matchups. These are the matchups I believe the Hoosiers should use and are not necessarily the ones they used the first time or will use on Friday.
Marquis Teague (PG) 9.4 ppg, 4.8 apg    VS.    Victor Oladipo (SG) 10.9 ppg, 5.5 rpg
Teague, a freshman and former Pike standout, dominated the Hoosiers in the second-half of the first meeting. He used his quickness to get past Jordan Hulls with regularity, and finished the game with 15 points — most of them coming on layups.
Oladipo is quicker than Hulls and taller than Teague, and he should be able to stick with the Wildcats' point guard. The Hoosiers could use Oladipo on a variety of players, but they can't afford to let Teague beat them with easy baskets. They are going to have to settle for other guys making outside jump shots.
ADVANTAGE: INDIANA
Doron Lamb (SG) 13.2 ppg, 2.9 rpg    VS.    Jordan Hulls (PG) 11.5 ppg, 3.2 apg
The Hoosiers are going to need a much more productive game out of Hulls than they got against VCU. Lamb is a good shooter, so Hulls may have trouble staying with him off screens. But it's a better matchup for the Hoosiers than having Hulls guard Teague.
Lamb scored 19 points on 5-of-14 the first time around, and Hulls had 11 points.
ADVANTAGE: KENTUCKY
Michael Kidd-Gilchrist (SF) 11.8 ppg, 7.6 rpg    VS.    Will Sheehey (SF) 8.4 ppg, 3.1 rpg
Kidd-Gilchrist kept Kentucky close in December by going for 18 points and nine rebounds. Sheehey had 10 points, including two huge 3-pointers.
Kidd-Gilchrist has about 30 pounds on Sheehey, so I like him in this matchup. Then again, Sheehey has routinely guarded guys significantly heavier than him over the course of the season, and he's generally fared well. I wouldn't expect Kidd-Gilchrist to explode for 18 and nine again.
ADVANTAGE: KENTUCKY
Terrence Jones (PF) 12.5 ppg, 7.0 rpg    VS.    Christian Watford (PF) 12.0 ppg, 5.9 rpg
This was one of the most talked about matchups heading into the first meeting, and it wound up being no contest. Jones didn't show up. He had only four points and one rebound, and sat on the bench down the stretch. Watford, on the other hand, had one of his biggest games of the year. He scored 20 points, pulled down five rebounds, and hit the game-winner over Darius Miller as time expired.
It's hard to believe Jones will play that bad again. I would expect him to play much better. But Watford won't make it easy for him. He's been playing well of late, and he'll undoubtedly come out with a lot of confidence because of how he played against the Wildcats the last time.
ADVANTAGE: PUSH
Anthony Davis (C) 14.3 ppg, 10.0 rpg    VS.    Cody Zeller (C) 15.5 ppg, 6.4 rpg
Zeller got the better of Davis in the first matchup by getting the big man in foul trouble. Zeller had 11 points and seven boards, and Davis had six points and nine rebounds.
Davis has added a lot to his game since the first meeting in December. He's a much more polished offensive player, and has even started stepping out and knocking down 3-pointers. Zeller's experience guarding guys who can play on the perimeter should benefit him in this matchup.
ADVANTAGE: PUSH
Key bench players: Darius Miller (9.6 ppg), Kyle Wiltjer (5.4 ppg)    VS.    Remy Abell (2.8 ppg), Matt Roth (4.6 ppg), Derek Elston (4.5 ppg)
Miller would start for most teams in the country and he's one of Kentucky's best mid-range shooters. The Wildcats often go to Miller when they're in need of a big shot, and he usually delivers. Wiltjer can shoot it, but it's to the Hoosiers' benefit when he's in the game.
Abell has played well in the few games since Verdell Jones' season-ending injury, and Roth is one of the best 3-point shooters in the country. Elston didn't play in the first meeting, so it will be interesting to see how he is utilized on Friday. Elston's main impact may come on the defensive end where he'll be able to give Watford a break on Jones or spell Sheehey on Kidd-Gilchrist. Whatever Elston gives the Hoosiers on the offensive end is a bonus. Tom Crean barely used his bench in the first matchup, but may have to rely on them a bit more this time around.
ADVANTAGE: KENTUCKY
Filed to: 2012 NCAA Tournament