Calipari, Wildcats look ahead to Indiana rematch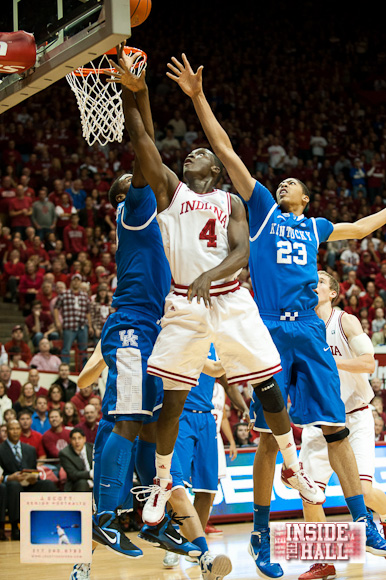 Kentucky John Calipari claims that he knew a rematch with Indiana was inevitable before the NCAA Tournament bracket was revealed.
"He [Tom Crean] and I talked, and I told him 'you are going to be in our region,'" Calipari said Saturday following the Wildcats' third-round win over Iowa State at the KFC Yum! Center in Louisville, Ky. "Has nothing to do with match-ups or story lines or any of that. I knew we would be playing him."
As it turns out, the third-year Kentucky coach was right.
In perhaps the most anticipated Sweet 16 game, Calipari and the Wildcats will get the opportunity to avenge their 73-72 loss to Indiana in Atlanta on Friday in a South Regional semifinal in the Georgia Dome.
For Calipari, the game will be difficult for two reasons: His friendship with Crean, and the relentless approach IU's coach takes when preparing his team.
"I cannot stand playing friends because, if they win, I'm sick after the game," Calipari said. "And if I win, I enjoy it, but I don't enjoy it because I know what they're going through because I know how it is.
"Tommy, if you're watching," Calipari continued, addressing Crean. "I'm putting in new out of bounds plays. I'm going to put in side out of bounds and two new offenses because he will watch every tape and know everything that we're doing except for that stuff. He won't know that stuff."
The buildup to Friday will likely focus on the Wildcats (34-2) attempting to get revenge for one of the top buzzer-beaters in all of college basketball this season.
Kentucky freshman Marquis Teague isn't buying in, at least not publicly.
"We've had to move on past that day," the former Pike standout said. "We had other games we had to play. So I guess we got them again. We're just going to come out and play our hardest. We're not really saying anything about revenge or anything like that. We're just going to come out and play like we would any other game."
UK senior Darius Miller, the defender whose outstretched arm couldn't get to Christian Watford's game-winning shot, took a similar stance.
"We were a totally different team than back then, and so are they," Miller said. "We're going to try to see what the outcome is. I know both teams are going to be ready to go. So it should be an exciting game."
Indiana and Kentucky took different paths following their first meeting.
The Wildcats went on to rip off 24 straight wins and finished the regular season as undefeated champions of the Southeastern Conference.
The Hoosiers rode the confidence of the win until their conference opener, struggled through a lull that included a three-game losing streak, and rebounded by winning eight of their last ten.
Both teams are different, but both teams are better.
"Right now Indiana, we're better than we were, but so's Indiana," Calipari said. "Tommy's done an unbelievable job. Think about where that program was and what he's got that thing going now. He's got a great recruiting class coming in.
"So I said this beginning of the year. They'll be a top-five program in short order. Everybody looked at me and thought I was crazy. Shoot, they may be a top-five now. They've got terrific players. They've got competitors. And as far as game preparation, you're not going to have a better coach than Tom. He's as good as they get."
Filed to: 2012 NCAA Tournament, Kentucky Wildcats