Jones can help Hoosiers by teaching Abell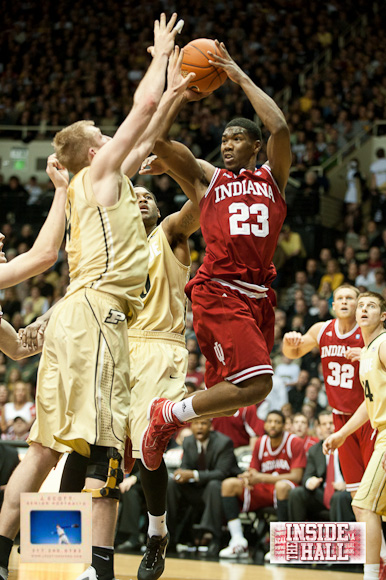 It's hard not to feel sorry for Verdell Jones. After four years of hard work and sacrifice, the senior guard won't get to play when Indiana opens the NCAA Tournament against New Mexico State on Thursday night.
It's not fair.
But beyond the sympathy surrounding Jones' torn ACL, there's a sizable void left on the Hoosiers roster. Jones not only gave the Hoosiers 7.5 points and 3.2 assists per game off the bench, but he was also one of their most experienced on-court leader.
The Hoosiers don't lack depth behind Jones, but they do lack experienced depth. Freshman Remy Abell figures to get most of Jones' minutes in the Big Dance, and senior Daniel Moore is next in line.
While Abell has played well at times this season, he's occasionally shown freshman inconsistency. His best game came at Purdue in early February when Jones was out with a shoulder injury. In that contest, Abell scored 13 points on 5-of-6 shooting, including a dagger 3-pointer late that put the Boilermakers away. Abell hasn't been in double figures in any other game, and he's averaging only 2.8 points per contest.
Still, the Hoosiers have faith Abell can play a role in their postseason run.
"Remy's capable, and Verdell's gotta help him," Indiana coach Tom Crean said Sunday. "We're very confident with Remy. You don't anticipate not having Verdell until the other day, but you figure having depth at the guard spot is gonna be really good for you."
While Jones won't be able to help the Hoosiers on the court in the tournament, he can contribute by, as Crean said, helping Abell. Jones and Abell room together for road games, and Jones said he's in the ear of his understudy as much as possible.
"Remy, he's a phenomenal athlete. He does a lot of things I can only dream of doing," Jones said. "But he's a quiet guy. When he gets in there, he has to grab the bull by the horns. Sometimes, he's a little bit afraid of guys getting mad at him, but when we're trying to win you can't worry about that. You gotta do what you gotta do as a point guard and a leader."
Abell knows he can stand to be more vocal on the court. He said he was never asked to be a vocal guy at Louisville's Eastern High School, and he's naturally a quiet person.
With a little pushing from Jones, that's starting to change.
"I see it getting a little bit better, but I still have that to work on," Abell said. "He's (Jones) been helping me since I first got here. There's no doubt in my mind he'll keep pushing me, and that's what I want. I want him teaching me the ins and outs of how to be a guard. I'm just going to take it, listen to him, and apply it on the floor."
Filed to: 2012 NCAA Tournament, Remy Abell, Verdell Jones