Unlikely hero shoots Badgers past Hoosiers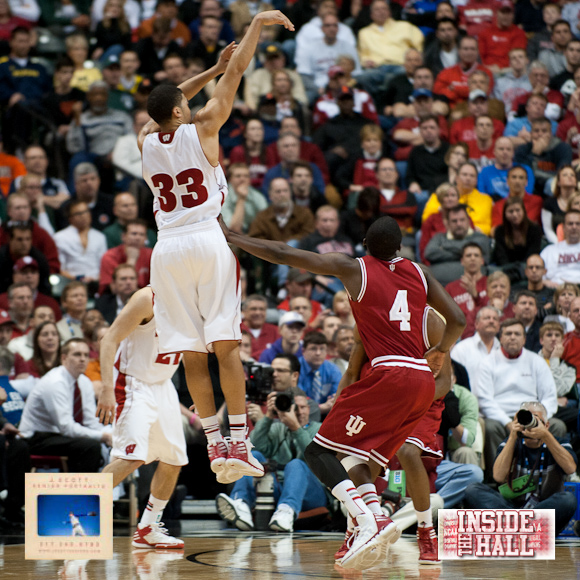 Indiana's scouting report featured a lot of Jordan Taylor and plenty of Jared Berggren. There wasn't as much on there about Rob Wilson.
"We knew he could shoot the ball," said Indiana forward Christian Watford.
But how well could he really shoot it? The Wisconsin sixth man entered Friday's game averaging just 3.1 points per game with a season high of 11. There was no way he was going to beat the Hoosiers.
Until he did.
Wilson went off for a career-high 30 points, including seven 3-pointers. When Taylor struggled to find his offensive game, Wilson put the team on his back.
"I think the reason he got so hot was he hit open shots and then even if we got there, it was going in anyway because he was feeling it," said Indiana guard Victor Oladipo.
Even as Wilson hit shot after shot, you had to figure he was going to cool off sometime. And the Hoosiers played him that way. They couldn't afford to leave Taylor, even as he struggled and Wilson got hot.
Even though Oladipo and Will Sheehey each got a turn guarding Wilson, Jordan Hulls and Matt Roth also spent time on him. Crean didn't always use his top defenders on the hot hand.
To be fair, though, it didn't really matter who guarded Wilson. The Hoosiers repeatedly got caught under screens and could only offer a flailing arm in the direction of the man hitting daggers.
"We were miscommunicating, overhelping, and he hit wide-open shots," said Indiana forward Derek Elston. "Someone would drive the lane, and whoever was guarding Wilson would overhelp when he really didn't need to.
"We didn't expect him to go off for 30, but when you're giving him wide-open looks at it, who knows what you can do."
As hard as it had to be for Indiana fans to watch a little-known player knock the hot Hoosiers out of the Big Ten tournament, Indiana can use Wilson's play as inspiration. His performance is what March and postseason basketball is all about.
Your best players aren't going to play well every game. Cody Zeller isn't always going to dominate inside, Jordan Hulls isn't always going to be feeling it from the outside.
To advance in March, sometimes you need an unexpected hero to step up. Sometimes, you need a guy to score more points than he'll ever score or make shots he'll never make again.
Sometimes, you need a Wilson.
"That's just another name on the other team's scouting report they're gonna have to pay attention to now," Taylor said. "That helps the whole team. That's gonna open things up for everybody."
Now more than ever, the Hoosiers need that extra name on the other team's scouting report. Their senior leader, Verdell Jones, is out for the season with a torn ACL. Will Sheehey reinjured his ankle against the Badgers and didn't appear to be at 100 percent when he came back.
The Indiana players like to talk about their "next man up" mantra. Well, who is going to be the next man up for the Hoosiers?
"I'm sure that could be a possibility," Indiana guard Matt Roth said of filling a Wilson-like role for the Hoosiers. "But in March, everybody's so well prepared, and it's tough to do that."
The good news for the Hoosiers is, unlike the past three years, this conference tournament loss doesn't mean the season is over. They now have extra time to prepare for the NCAA tournament, allow guys to get comfortable in their new roles and maybe, just maybe, find their own Rob Wilson.
Then again, if you saw him coming, he wouldn't be much like Wilson at all.
Filed to: Derek Elston, Victor Oladipo, Wisconsin Badgers