IU can't capture momentum in 10th straight loss to Badgers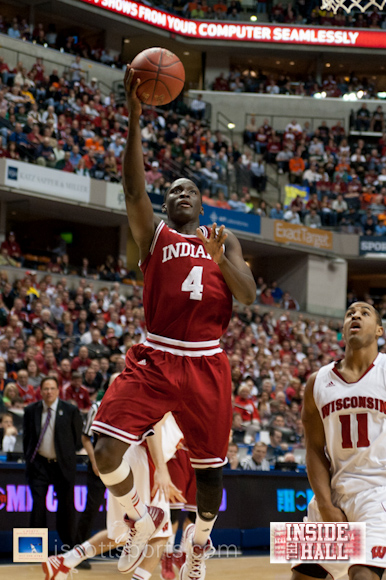 Indiana rode the momentum of a five-game winning streak into Friday's Big Ten Tournament quarterfinal meeting with Wisconsin.
But after claiming a 13-11 lead early in the first half, it was the Badgers (24-8) who captured momentum and rode unheralded senior guard Rob Wilson to a 79-71 win.
The Hoosiers, who trailed just 36-31 at halftime despite allowing Wisconsin to hit 7-of-15 from behind the 3-point line, trimmed the lead to one twice after the half.
Each time Wisconsin quickly extended the lead back out and took the pro-IU crowd out of the game.
"It's a game we could have won and should have won, but we could never get over that hump," Indiana forward Derek Elston said. "We were begging for the crowd to help us out. We had them on our side, we keep getting it down to three, two, one, and we just couldn't get over the hump. It's pretty frustrating."
When the final buzzer sounded on IU's brief run in the Big Ten Tournament, they'd given up a season-high 13 makes from behind the 3-point line.
Much of the damage was done by Wilson, who finished with a career-high 30 points which came on a mix of uncontested looks and tough shots after he established a rhythm.
"He was just feeling it tonight. He was hitting tough shots, he was hitting wide open shots," Indiana guard Victor Oladipo said. "It just seemed like every time we would get it close, they would hit a big one."
Sophomore Will Sheehey blamed many of the openings on the perimeter on poor weak side defense.
"We were too worried about the the ball and they'd find open guys on the other side of the court," he said. "It was a tough night."
Indiana came into the Big Ten Tournament as a trendy pick by some national media to win four games in four days.
They exited as a team disappointed after dropping their tenth straight game to Wisconsin.
"It's very disappointing," Sheehey said. "We definitely thought we could make a deeper run in this tournament. But we've gotta learn from it and go on."
Filed to: 2012 Big Ten Tournament, Wisconsin Badgers