Ranking the top 25 players in the Big Ten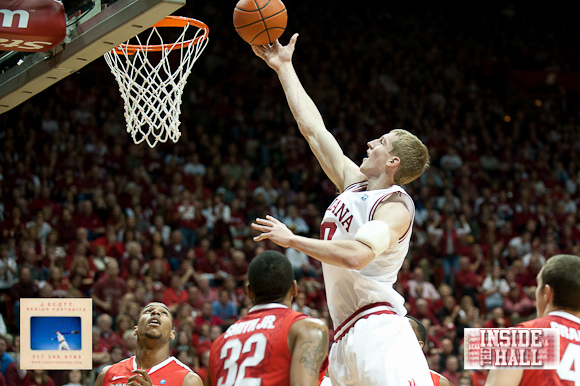 Together with our friends from Indiana Daily Student, The Herald-Times and Inside Indiana, we've come together to vote on the top 25 players from the Big Ten. Six voters ranked the top 25 and the results of our exercise are below. (Each player got a point value of 25-to-1 with the No. 1 player getting 25 points and the No. 25 player receiving one point):
1. Draymond Green, MSU (150): The consensus No. 1 player across all ballots, Green boasts what Tom Izzo calls the nation's most versatile game. And his coach may have a point. With an improved perimeter game and added explosiveness, the powerful forward dominated the conference in his farewell campaign.
2. Jared Sullinger, OSU (144): Sullinger actually saw his numbers drop year-over-year, but he's still the most dominant post player in the Big Ten. His strength and ability to finish through contact is unmatched by his peers and his competitiveness was on full display when the Buckeyes spoiled Michigan State's outright league title last Sunday.
3. Cody Zeller, IU (134): Zeller not only lived up the tremendous expectations bestowed upon him by fans and media alike, he exceeded them. Zeller led the Big Ten in effective field goal percentage, was third in fouls drawn per 40 minutes and was the catalyst for Indiana's turnaround this season.
4. Robbie Hummel, PU (126): The fifth-year senior carried the Boilermakers down the stretch and put up 16.3 points and 7.8 rebounds per game without much interior help. But more importantly, Hummel returned from two devastating knee injuries and will finish his career with a NCAA Tournament berth.
5. Trey Burke, UM (120): The departure of Darius Morris to the NBA left many wondering how the Wolverines would compete for a league championship following the loss of their star. Burke not only filled the void left by Morris, he was the best point guard in the Big Ten as a freshman.
6. John Shurna, NU (119): It might not be the prettiest at times, but Shurna simply finds a way to put the ball in the basket. He is the Big Ten's leading scorer at 19.8 PPG and his 80 three-pointers made is tied for first in the conference. Shurna's name resides atop the Northwestern record books as the program's leading scorer but he has made it clear that he won't be satisfied unless he leads the Wildcats to their first ever trip to the NCAA Tournament.
7. Tim Frazier, PSU (118): Frazier has logged the most minutes of any player in the Big Ten this season and has carried the load for a young Nittany Lions squad. To some people, Frazier might have been a questionable First Team All-Big Ten selection but not only is he the second leading scorer in the conference, he also leads the Big Ten in assists at 6.3 PPG.
8. Jordan Taylor, UW (114): During the preseason, Taylor was many people's pick for All-American teams. After struggling through the non-conference portion of Wisconsin's schedule, Taylor has regained his form of year's past and leads the Big Ten in assist to turnover ratio.
9. Matt Gatens, IA (99): Nobody in the Big Ten has put together a better final month of the season than Gatens. In his last six games, Gatens is averaging 23.1 PPG while sitting just a total of five minutes for his hometown Hawkeyes.
10. William Buford, OSU (97): If this were based on NBA potential Buford would be much higher on the list. At times Buford has been quiet during some Big Ten games but he hit arguably the biggest shot of the season for the Buckeyes against Michigan State on Sunday, which helped give Ohio State a three-way share of the conference title.
11. Deshaun Thomas, OSU (80): Thomas stayed true this season to Mark Titus' assertion that there's no shot he doesn't like, but for a pure scorer, is that such a bad thing. He's gained the consistency that made him one of the best Indiana high school basketball players of all time, and if he sticks around next season, Ohio State will in all likelihood be his team.
12. Meyers Leonard, ILL (78): Speaking of sometimes-frustrating inconsistency, welcome to Meyers Leonard. Still, what's impressive about the kid is the jump he made from year one to year two, and amid a winter collapse, it was encouraging — if painful — to see him show real emotion over Illinois' struggles. Another that, if he stays a third season, could be dominant.
13. Keith Appling, MSU (72): Can we just name them The Inconsistent Five? Appling has exceptional talent for his position, and outside of Draymond Green, he's easily Michigan State's most important piece. As evidenced in the Spartans' loss to Indiana, Michigan State needs Appling to bring its secondary players into the game.
14. Drew Crawford, NU (71): A prolific scorer and more athletic than you'd think, Crawford is the perfect foil to John Shurna. As good as the two have been though, will it be enough to get Northwestern to the tournament? They need a signature win in Indy.
15. Aaron Craft, OSU (63): In terms of inconsistency, people rag on Craft, I think, more than they should. The kid is definitely a starter for his defense, and his effect on his team's intensity. He'll need to be more of a scorer soon, but right now, he's excellent in what he does.
16. Victor Oladipo, IU (61): Oladipo is on the short list of best pure athletes in the Big Ten, and the development of his dribble drive game made him a much more potent offensive weapon this season. He earned a spot on the All-Defensive team with 1.5 steals per game and he's averaging 14.8 points per game since the Purdue game on Feb. 4 when coach Tom Crean expanded his ball-handling role.
17. Brandon Paul, ILL (54): As evidenced by his 43-point effort in Illinois' win over Ohio State on Jan. 10, Paul is one of the most explosive scorers in the conference when he's on. His 17.7 points per game in conference contests were third in the league. However, he also turned the ball over 102 times and couldn't stop the Illini's February collapse.
18. Tim Hardaway Jr., UM (53): Trey Burke is Michigan's most important player, but the Wolverine's often go as Hardaway Jr. goes. He's not what you'd call efficient, shooting 28.9 percent from beyond the 3-point arc, but he gets his points and when he's shooting well, he's all-conference caliber.
19. Christian Watford, IU (43): Watford has notoriously struggled with consistency and he's never fully embraced the rugged nature of Big Ten post play, but as a 6-foot-9 forward with perimeter skills, he's one of the toughest matchups in the league when he's operating at a high level. He can also defend 1-5, and his improving ability to defend point guards has done wonders for Indiana's defense.
20. Bo Spencer, NEB (41): The only player in the Big Ten who carries a heavier offensive burden than Spencer is Penn State's Tim Frazier. He's the only Cornhusker averaging double figures, but he can handle that because he can make almost any shot on the floor and doesn't need much space to do it. His 23-point effort against Indiana almost single-handedly beat the Hoosiers.
21. Lewis Jackson PU (23): The senior point guard has quietly racked up a nice career in West Lafayette where the Boilermakers are on their way to their fourth straight NCAA Tournament appearance. The 5-foot-9 Jackson doesn't get the accolades that senior Robbie Hummel does, but he still handles the ball and distributes as well as any Big Ten point guard. Oh, and he can absolutely fly.
22. Rodney Williams, MINN (19): At this point in his career, many would've predicted Williams to be higher on this list. But the once highly-sought after forward has struggled to emerge with the injury of teammate Trevor Mbakwe. However, Williams has shown flashes this season of becoming one of the elite players in this conference.
23. Jared Berggren, UW (18): Berggren wreaked some serious havoc upon the likes of Jared Sullinger and Cody Zeller in big Wisconsin wins. The 6-foot-10 Berggren has epitomized Bo Ryan's defensive philosophy and done so while averaging double-digit points. Berggren is one of the Big Ten's most improved players and will be a major part of a Wisconsin team that will lose Jordan Taylor next season.
24. Zack Novak, UM (12): No player in the Big Ten has played the type of role Novak has in his four years in Ann Arbor, Mich. The senior has played bigger than his 6-foot-4 frame for an undersized Michigan squad and while being a reliable three-point threat. Michigan isn't celebrating its first Big Ten regular season crown in 25 years without Novak.
25. Roy Devyn Marble, IA (8): The Iowa guard has shown a lot of consistency for a sophomore. Marble scored in double figures in 13 of his last 14 games for an Iowa team that snuck up on a few of the Big Ten's best. If Marble could shore up his turnover woes, he has the potential to become one of the Big Ten's top frontcourt players.
Honorable Mention: D.J. Richardson, Illinois (7); Adreian Payne, Michigan State (6); Aaron White, Iowa (3); D.J. Byrd, Purdue (3); Branden Dawson, Michigan State (2); Jordan Hulls, Indiana (2); Mike Bruesewitz, Wisconsin (2)
Filed to: Cody Zeller, Draymond Green, Jared Sullinger