Glass: This season surprised me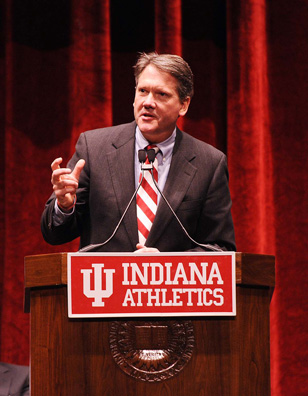 Indiana athletic director Fred Glass didn't hire Tom Crean, but he always supported him. Even as Crean struggled through three of the most miserable years in the history of the program, Glass always believed Crean would turn it around.
Glass just didn't expect him to do so this quickly.
"I try to avoid expectations and certainly quantifications of number of wins, but this exceeds my wildest non-expectation," Glass told Inside the Hall of the Hoosiers' 24-7 regular season. "In the back of my mind, I thought it would be a really good year if we qualified for the NCAA, or even if we qualified for the NIT. I thought that would show substantial progress. For them to break through and have this transformative year this year, I have to tell you, I was surprised by it and very pleased by it."
Glass knew Crean was the right guy for the job, but not all of Hoosier Nation always agreed. During the struggles, some began to question the progress of the program. There was plenty of talk on radio shows about the Hoosiers making a run for Butler coach Brad Stevens instead.
"People that don't have a very sophisticated view of where we were and where we've been were starting to chirp from the cheap seats that things weren't going well," Glass said. "But I've been up close, and this dude is the complete package with his consistency and his Xs and Os and his recruiting and all that.
"Even though I didn't hire him, I wish I would have. I'd like to put that on my resume because he was just the right guy at just the right time."
At the end of every Indiana basketball regular season, there is usually talk about possible renovations to Assembly Hall. Glass said he would like to make changes to some of the original seats, but he said there won't be any major changes to the 41-year-old arena anytime soon.
"I'm not looking to build a new Assembly Hall or do a major renovation to the current one," Glass said. "I think there's some things we could do to spruce it up, but there's no immediate plans for anything. If we do anything, it will be fairly minor cosmetic stuff."
(Photo courtesy of Indiana University.)
Filed to: Fred Glass