March Watch: Hoosiers rising toward the three line?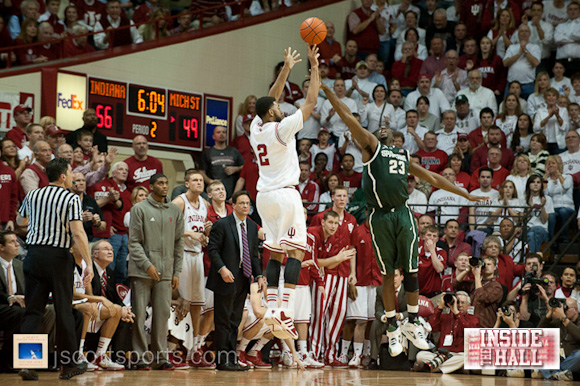 With Selection Sunday just five days away, it's time for another edition of "March Watch," our look at where the Hoosiers currently stand in their quest for the program's first NCAA Tournament berth since the 2007-2008 season:
Overview
What would have been hard for anyone to believe before the season tipped off has become a reality: Indiana is a lock for the NCAA Tournament. What's less certain is if the Hoosiers can improve their resume enough before Selection Sunday to get placed at a favorable site like Columbus, Louisville or Nashville. The higher IU can climb on the s-curve, where they're currently No. 13 according to Joe Lunardi and No. 10 according to Crashing the Dance, the less likely a trip west becomes. Given the Kansas and Missouri are near certainties to be sent to Omaha and Duke and North Carolina will likely be headed to Greensboro, those two locations are unlikely to host the Hoosiers.
Nitty Gritty Profile
· Record: 24-7 (11-7 Big Ten)
· RPI: 12
· SOS: 27
· Home Record: 18-1
· Away Record: 5-6
· Neutral Court Record: 1-0
· vs. RPI Top 50: 8-4
· vs. RPI Top 51-100: 3-1
Top 11 RPI wins over Kentucky, Michigan State, Ohio State and Michigan give the Hoosiers one of the best resumes in the country, but losses to Iowa (RPI No. 130) and Nebraska (RPI No. 149) could ultimately push IU below teams like Baylor, Georgetown, Marquette and Michigan on the s-curve.
Bracket Projections
· ESPN Bracketology (Joe Lunardi): 4 seed vs. Virginia Commonwealth in Nashville
· CBS Sports (Jerry Palm): 4 seed vs. Nevada in Albuquerque
· Sports Illustrated (Andy Glockner): 3 seed vs. Belmont in Nashville
In their most recent updates, Palm is the only bracket sending the Hoosiers west. The fourth-seeded Hoosiers would get Nevada, which would be an unfavorable draw given the geography. Lunardi sends IU to Nashville in a meeting with last year's Cinderella, VCU, while Glockner puts them on the 3-line in Nashville against Belmont. Both would be tough, but given that Belmont is in Nashville, the latter draw could be a disaster especially if IU does enough to jump up to a three seed. The Bracket Matrix, which aggregates projections from around the web, has the Hoosiers as the top No. 4 seed in their latest update. With a couple of wins in Indianapolis, a jump up is not out of the question.
Tournament Sites
· First round: Dayton
· Second, third round: Albuquerque, Columbus, Greensboro, Louisville, Nashville, Omaha, Pittsburgh, Portland
· Regional: Atlanta, Boston, Phoenix, St. Louis
· Final Four: New Orleans
Filed to: NCAA Tournament