Big Ten Power Rankings: Week 11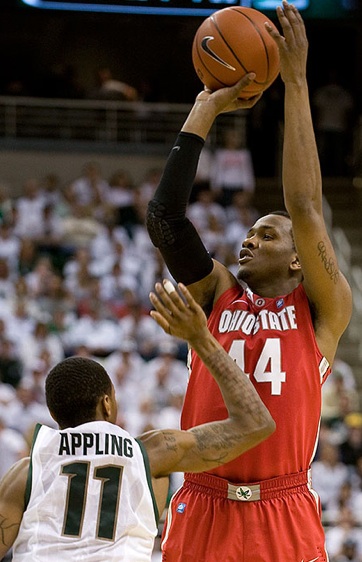 The regular season is complete and three co-champions have been crowned. But the Big Ten power rankings don't always agree with the conference standings. There's a shakeup at the top this week and seven teams saw movement in the pecking order:
12. Nebraska (12-17, 4-14) (LAST WEEK: 12)…The Cornhuskers have won only one game since Jan. 26, and that came against a reeling Illinois team. In the win against the Fighting Illini, they scored 80 points. In the other eight games during the stretch, they've scored more than 70 only once.
11. Penn State (12-19, 4-14) (LAST WEEK: 11)…Tim Frazier was named to the All Big Ten first team, but that's the only accolade the Nittany Lions will receive this season. They dropped four in a row to close the season, including a six-point home loss to Michigan. They'll play Indiana in the first round of the conference tournament on Thursday.
10. Illinois (17-14, 6-12) (LAST WEEK: 9)…They got a good win against Iowa, but the Illini continued their losing ways against Michigan and Wisconsin to close the season. Illinois lost eight of its last nine and 11 of its last 13, and will play Iowa on Thursday to open the conference tournament.
9. Minnesota (18-13, 6-12) (LAST WEEK: 10)…When the Hoosiers visited Minnesota on Feb. 26, it looked like the Golden Gophers had packed it in for the season. They've played well against good opponents of late, but the wins simply haven't been there. Minnesota has dropped six of seven, the only win coming Saturday against Nebraska.
8. Iowa (16-15, 8-10) (LAST WEEK: 8)…After knocking off Indiana and Wisconsin in back-to-back games, the Hawkeyes closed the season in the worst possible way — by killing all of their momentum. They dropped two of their final three, including a home loss to Northwestern to close the regular season.
7. Northwestern (18-12, 8-10) (LAST WEEK: 7)…ESPN's Joe Lunardi has the Wildcats as one of his final four in on this week's bracketology, but it's hard for me to imagine them making the Big Dance without winning at least one game in this week's Big Ten tournament. If they beat Minnesota, though, they just might make it for the first time in school history.
6. Purdue (20-11, 10-8) (LAST WEEK: 5)…Like I said earlier this season, the Boilermakers belong in this spot. They aren't good enough to be considered elite, but they take care of the teams they're supposed to beat. Sunday's loss to Indiana notwithstanding, Purdue is one of the conference's hottest teams right now. They won five of seven down the stretch.
5. Michigan (23-8, 13-5) (LAST WEEK: 6)…They earned a split of the Big Ten title on Sunday, but I still think Indiana is a better team than the Wolverines on a neutral floor. They finished the regular season with consecutive road wins, but Illinois and Penn State aren't exactly world beaters.
4. Indiana (24-7, 11-7) (LAST WEEK: 4)…The Hoosiers are playing better than any team in the conference right now. They've won four straight and seven of eight, and they could be in line for a No. 3 seed in the NCAA tournament if they win a couple games at Banker's Life Fieldhouse this weekend.
3. Wisconsin (23-8, 12-6) (LAST WEEK: 2)…The Badgers have quietly won three straight to close the season and will play the winner of the Indiana-Penn State on Friday afternoon. They aren't flashy, but the Badgers are always a dangerous postseason team because of their commitment to execution.
2. Michigan State (24-7, 13-5) (LAST WEEK: 1)…The Spartans were playing as well as anybody in the country before they ran into Indiana and Ohio State to close the year. Their home loss to the Buckeyes was disappointing, but Tom Izzo vowed to win the conference tournament and get the title they should have won on Sunday. For some reason, I believe him.
1. Ohio State (25-6, 13-5) (LAST WEEK: 3)…It's hard to know which team will show up on a given day, but the Buckeyes are the Big Ten's best team when they play like they did Sunday. William Buford isn't ready for his career to end, and Jared Sullinger dominated at times in last year's conference tournament.

Filed to: Big Ten Power Rankings