Notebook: Ball movement propels Indiana's hot start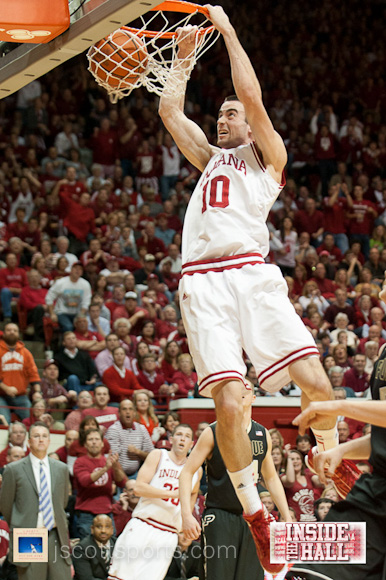 At times in the first half, it seemed like the Hoosiers were incapable of missing.
Christian Watford hit a 3-pointer from the wing. Victor Oladipo threw down an emphatic dunk. Matt Roth hit a 3 from the left corner, then from the right one only moments later.
Everybody was involved.
The No. 20 Hoosiers (24-7, 11-7) had one of their best offensive halves of the season against Purdue on Sunday night, hitting 20-of-30 shots from the field and 8-of-14 from beyond the arc in the first 20 minutes.
The key to Indiana's success was the rapid ball movement. Six players had at least six points for the Hoosiers in the first half, and all of them shot better than 50 percent from the field.
"This team plays well when the ball moves and bodies move," said Indiana coach  Tom Crean. "The biggest thing is there's a respect for what others do. The ball moves so well and (Cody Zeller) gets so much attention, it's never like he's forcing a shot — he's always finding an open person. When your best players move the ball, it becomes absolutely contagious and a way of life for everybody else. If somebody doesn't move the ball well on this team, it stands out so much that we're gonna sub. Nobody wants to accept that."
The Hoosiers didn't shoot as well in the second half, but they were still over 50 percent for the game (28-of-53). Four Indiana players scored in double figures — led by Watford's 19 — and two others finished with nine points.
Sheehey keeps getting better
For a stretch in January and February, it seemed like Will Sheehey wouldn't be the same player he was before his ankle injury this season. As time goes by, though, Sheehey seems to be getting healthier, and he's beginning to look more and more like the player he was earlier in the season.
Sheehey had 16 points on 5-of-7 shooting and five rebounds against the Boilermakers, and he played with the same confidence he had against Kentucky earlier in the season. Sheehey also had five rebounds and didn't commit a turnover.
Crean said Sheehey was one of the last players in the gym after the team's shootaround on Sunday. Sheehey, though, credited his teammates for his offensive production.
"My teammates were just finding me, getting me open, setting good screens," Sheehey said. "That's about it."
Seniors honored, finish game on court
Indiana honored its five seniors — Kory Barnett, Tom Pritchard, Verdell Jones, Daniel Moore and Roth — during and after its 85-74 victory against Purdue.  Jones, Pritchard and Roth combined to score 18 points — all of the Hoosiers' bench production in the game — and all five checked in together for the closing seconds with the game well in hand.
During the postgame speeches, Barnett read a poem, Pritchard received a standing ovation from the student section, and all five players talked about the "ups and downs" they had to endure since they arrived in Bloomington.
While Crean reminded everyone he doesn't think the seniors are "anywhere near done" this season, he did take a moment to address this senior class' legacy at Indiana.
"They have all evolved into doing what it takes to be successful, what the team needs," Crean said. "Times have changed, but it's changed for the better. And they've (seniors) changed for the better in the sense of truly understanding what it takes for teams to be successful."
Filed to: Purdue Boilermakers