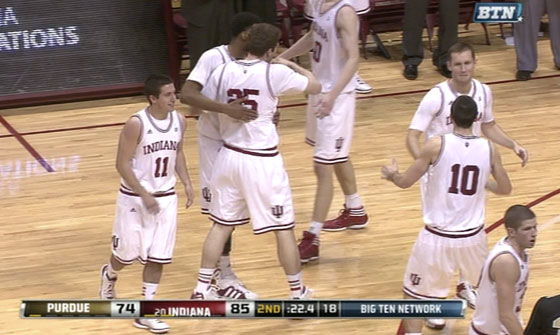 Thoughts on a 85-74 win against Purdue:
This started with a dominating performance from the Hoosiers.
The entire first half — and for the first 10 minutes or so of the second — Indiana didn't give Purdue any room to breath. It was go-go-go, score-score-score. And when the Hoosiers weren't grabbing defensive rebounds, pushing the pace and getting easy buckets in transition, they didn't have much trouble showing patience and getting good looks in their half-court offense. There were extra passes. There were several 3-pointers hit (8-of-14 in the first half). There was Cody Zeller passing out of double-teams and finding the open man. By half, Indiana racked up some impressive offensive statistics (49 points, 80% eFG, 1.37 points per possession). It was a clinic and this team's offense at its best: A mix of easy transition buckets, turning defense into offense, operation into and out of Zeller, ball movement, high energy, getting to the line, feeding off the crowd.
But Purdue, even when it found itself down 18 with 13:58 to go, still made a game of this one. The Hoosiers' offense stalled midway through the second half and Purdue forced them into contested looks late in the shot clock. Robbie Hummel (16 points) and Lewis Jackson (17 points) got it going a bit. A D.J. Bryd 3-pointer cut the lead to just seven with 6:01 to go. Plenty of time to continue the comeback, plenty of time to deflate an Assembly Hall faithful that smelled blood in the water all game. But Indiana never really lost a handle on things the rest of the way out. Its lead bounced back up to 13, then fell to six with 1:20 to go on a Ryne Smith 3-pointer, then climbed back up to 13 once again on the strength of some strong free throw shooting as Purdue was forced to foul late in the contest. (Indiana in that departement for the game: 47.2 free throw rate, 19-25 from the line.) Two Lewis Jackson free throws with 40 seconds to go inched Purdue within 11, and that wrapped up the scoring on the evening.
The Hoosiers beat the Boilermakers yet again this season. With the win, they beat out Purdue for fifth place in the conference. And it's also one that gives them 24 regular season wins coupled with just seven losses. For all this program has been through the past three seasons, that's impressive. Damn impressive.
All five seniors — Verdell Jones (who was smart with the ball all night), Daniel Moore, Kory Barnett, Tom Pritchard (who got a bucket tonight), Matt Roth (who hit three big 3-pointers to open it up before halftime) — finished this one out on the court together in the final seconds. It's a group that will hold a special place in the hearts of this fanbase, not because of conference titles or individual awards, but because they were here when no one else wanted to be, when Indiana was down and out, and they helped bring it all back.
But this run, this great story isn't over yet.
For the first time in the Tom Crean era, Indiana has the opportunity to make some noise in the Big Ten Tournament. Oh, and there's that NCAA Tournament, too.
Beam with pride tonight. Strap it in for what's to come.
Filed to: Purdue Boilermakers