Watford's D, rebounding help fuel IU's tenth Big Ten win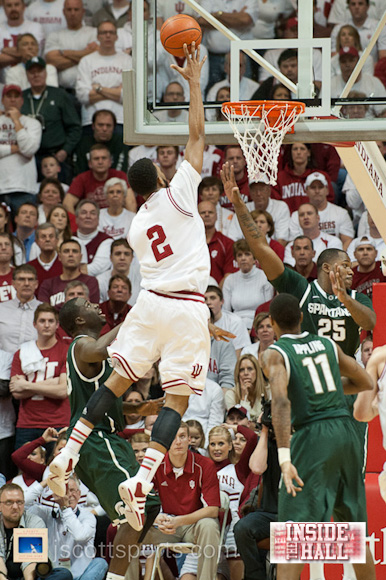 Christian Watford picked the perfect game to have a career night on the glass.
The 6-foot-9 junior from Birmingham, Ala. grabbed 14 rebounds against a Michigan State program that's set the rebounding standard in the Big Ten for more than a decade.
The Spartans have dominated opponents on the offensive glass in conference play with a 37.1 offensive rebounding percentage. While their final offensive rebounding numbers last night were nearly right in line with their season average, Michigan State managed zero second chance points in their 70-55 loss to Indiana at Assembly Hall.
"We knew they were going to come," Watford said. "I just wanted to be aggressive and get after it on the rebounds."
And get after it he did.
Not only did Watford change the game on the glass, he started the game guarding Michigan State point guard Keith Appling and then asked to switch to forward Draymond Green early in the second half.
"I think I was doing a pretty good job on Appling using my length," Watford said. "But on Draymond, I just wanted to try to make things tough for him."
Green finished with a game-high 29 points, but had to work harder down the stretch and seemed to tire down due to Watford's effort.
"The job Christian Watford did defensively is where I would start with talking about him," IU coach Tom Crean said. "Obviously he had a double-double, but the eight deflections, the job he did on Keith Appling, then the job of going in to Draymond Green, I thought that was big.
"He's a very, very smart player, extremely smart, but again, the story of the game for him, outside of the defense on Keith, was the rebounding."
Tom Izzo admitted that Michigan State tried to ride Green all night, but said that his star senior began to wear down in the game's final minutes.
"Hell of a performance by a very, very good player," Izzo said. "We beat him up. We played him 36 and it seemed like 40 minutes," Izzo said.
Some of the credit for Green tiring late should go to Watford, who has risen to the occasion now against the likes of Green, Kentucky's Terrence Jones and Ohio State's Deshaun Thomas with his defensive effort and rebounding. Those areas weren't always a staple of Watford's game during his first two seasons in Bloomington, but his improvement in both are prime examples of his maturity as a player.
Verdell Jones offered a light-hearted analysis of Watford's play that drew a laugh in the postgame press conference, but also offered a glimpse into how close knit this group has become.
"I think Christian had 14 rebounds today, I don't know when that's ever happened," Jones said with a smile. "I'm proud of him. He was busting his butt."
Filed to: Christian Watford