The Minute After: Michigan State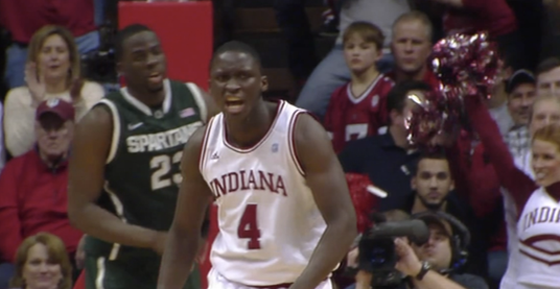 Thoughts on a 70-55 win against the Spartans:
If the Kentucky win was about arrival, this one was about maturity. It was about Indiana meeting the challenge of Michigan State's physicality head on, and handling the class of the conference. It was Tom Crean finally getting a win over Tom Izzo, and Assembly Hall re-solidifying its status as one of the toughest college basketball stadiums for opponents in America.
Three wins over Top 5 teams this season. The one against No. 1 Kentucky was fun. The one against then-No. 2 Ohio State was encouraging. But none was more impressive than tonight's against No. 5 Michigan State, a team looking for a No. 1 seed in the tournament and winners of seven straight.
Where to begin?
How bout Victor Oladipo.
He set the tone early, and the team followed. The DeMatha product was relentless in the first half. He believed he could get by any defender Michigan State threw at him, could use any ball screen and find his way to the rim. And for the most part, he did (7-of-8 from the line in the first half). When this team gets to the line, and especially when they get to the line at home, they win. A strong free throw rate (45.8) and strong shooting at the line (19-of-22, 86.4%) by Indiana were key in this victory. Verdell Jones (6-of-7 from the line) and Cody Zeller (4-of-5) were contributors here, too.
Indiana also succeeded this evening because they hit the offensive boards hard against the second best defensive rebounding team in the conference (34.6 OR%, outscored Michigan State 13-0 in second-chance points). Early, it was Will Sheehey sprinting down the court in transition and tipping in a Jordan Hulls missed 3-pointer. Late, it was Christian Watford rebounding a Zeller missed free throw; Zeller rebounding a Will Sheehey missed jumper; Hulls swinging it to Watford beyond the arc; and him connecting on a banked 3-pointer. It put Indiana up 10 with 6:02 to go. Izzo screamed at his team "GOTTA REBOUND!" And that just about put away the Spartans for good. They were able to cut it to eight on their next possession, but Indiana built the lead back up from there and cruised to a 15-point victory.
And there was the defense. Yes, Draymond Green got his. It seemed no matter which player the Hoosiers put on him — Oladipo, Sheehey, Watford — he would not be denied, though he had the most ease against Watford. It was a terrific performance from the best player in the Big Ten (29 points on 10-of-17 shooting, eight rebounds, though he did have six turnovers). But one player does not make a basketball team. And Indiana wrapped up just about everyone else. No other Spartan scored in double digits. The rest of the team only shot 29.4 percent from the field.
When Crean took this job, he stood at the podium and proclaimed the reason why always came back to one thing: "It's Indiana, it's Indiana." But three long years of losses, disappointment and bad basketball often made it hard to see this point, to believe it could all be turned around again.
And yet, it's here. The light shines bright once again inside Assembly Hall.
The Indiana Hoosiers have reclaimed the state this season. They've put themselves back on the national map.
And a fanbase beams with pride once more.
Filed to: Michigan State Spartans