What to Expect: Minnesota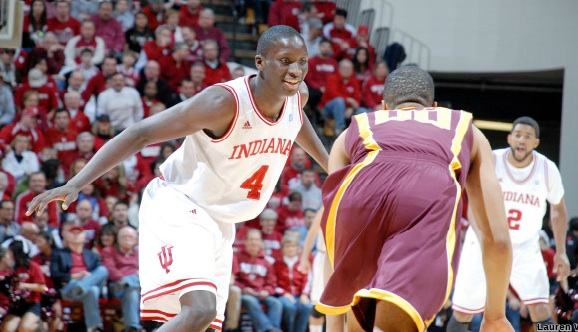 Indiana looks for its third road win in conference play on Sunday when they meet Minnesota at Williams Arena. Minnesota won the first meeting, 77-74, in Bloomington on Jan. 12. It's the final road game for the Hoosiers. (Photo credit: IU Athletics.)
The game will be shown on ESPN (Dave O'Brien and Dan Dakich) and broadcast on the IU radio network:
As Indiana and Minnesota prepare for tomorrow's game that will be broadcast to a national television audience, there are intriguing story lines surrounding both teams.
For the Hoosiers, who have won four of their last five, this game has Big Ten Tournament and NCAA Tournament seeding implications. IU could still finish as low as seventh in the Big Ten due to Iowa's recent surge and a home game in a little over a week with Purdue. And if IU hopes to remain in the hunt for a top four seed in the NCAA Tournament, this is a game that would help solidify their position.
From a personnel standpoint, the Hoosiers also need to get juniors Christian Watford and Jordan Hulls back on track offensively. Watford is just 4-of-24 from the field over IU's last three games and has been held to just three points over the last two. Hulls' seven turnovers over his previous three games matches his total number of points scored.
Minnesota looked to be in good position for the NCAA Tournament after a win over Nebraska on Feb. 5, but the Golden Gophers have dropped four straight and probably need to win out and do damage in the Big Ten Tournament to get back in the mix. Their problems, which were outlined by Star Tribune beat writer Amelia Rayno on Podcast on the Brink, stem from their inability to close out games like Wednesday's loss to Michigan State. The Gophers led the Spartans 48-39 midway through the second half, but collapsed down the stretch and fell 66-61. Does Minnesota have any fight left after four straight losses? Or will its recent skid snowball into another defeat?
POMEROY PREVIEW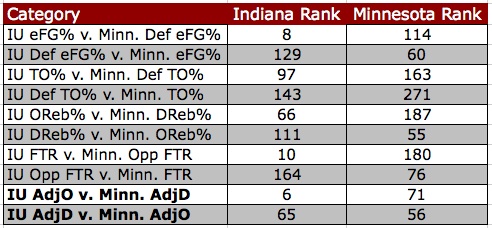 Indiana has three key areas it'll need to either exploit or improve upon to win this game. The first is creating turnovers at a much higher rate than they did in the first meeting. Minnesota posted a conference-low turnover rate of 16.4 in Bloomington, but they're coughing the ball up at a rate of 22.0 in league games. That's last in the Big Ten.
Second, IU must get to the foul line. In road wins at Penn State and Purdue, the Hoosiers posted a free throw rate (FTA/FGA) of greater than 60 percent. In losses at Michigan State, Ohio State, Nebraska, Wisconsin and Michigan, their free throw rate was under 30 percent. With Minnesota allowing an opponent free throw rate of 42.8 in conference play, second worst in the league, IU has an opportunity to make a living at the line.
And finally, IU has to improve on the defensive glass from the first meeting. The Hoosiers allowed Minnesota to rebound 43.2 percent of their misses. That's IU's worst performance of the season on the defensive glass to-date this season.
OTHER NOTES
Indiana's last win at "The Barn" came on Jan. 17, 2008. The Hoosiers won 65-60. … Per IU media relations, the Hoosiers are the most improved team among major conference programs with a +9 in the win column from the previous season. … A win on Sunday would give the Hoosiers a 6-6 record in games away from Assembly Hall.
Filed to: Minnesota Golden Gophers