March Watch: A look at IU's NCAA Tournament profile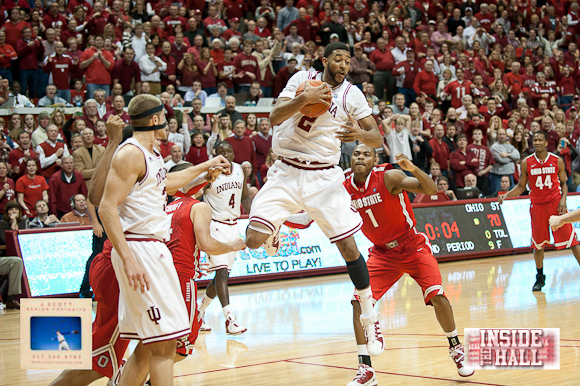 With Selection Sunday just sixteen days away, it's time for "March Watch," our look at where the Hoosiers currently stand in their quest for the program's first NCAA Tournament berth since the 2007-2008 season:
Overview
Thanks to marquee wins against Kentucky, Ohio State and Michigan, which highlight a solid 8-5 record against the RPI top 100, Indiana's tournament resume is among the top 20 nationally. In the latest s-curve exercise by ESPN's resident Bracketologist Joe Lunardi, the Hoosiers come in at No. 17. That makes them the top five seed in the bracket and puts them within easy striking distance of moving up a line to a No. 4.
The importance of Indiana improving its resume over the season's final two weeks lies primarily in climbing the seeding ladder to take advantage of the pod system that started before the 2002 tournament. Because the system is designed to give preference in geographic placement to the highest seeded teams, Indiana's best chance to play in Columbus, Louisville or Nashville and avoid going west to Albuquerque, Omaha or Portland is to finish the regular season strong and win multiple games in the Big Ten Tournament.
Nitty Gritty Profile
· Record: 21-7 (8-7 Big Ten)
· RPI: 19
· SOS: 33
· Home Record: 16-1
· Away Record: 4-6
· Neutral Court Record: 1-0
· vs. RPI Top 50: 6-4
· vs. RPI Top 51-100: 2-1
Wins over Kentucky (RPI 4), Ohio State (RPI 7) and Michigan (RPI 10) stand out, but the Hoosiers have hurt their profile by a couple of bad losses to Iowa (RPI 126) and Nebraska (RPI 134). If IU can knock off Michigan State next Tuesday in Assembly Hall, they'll own four wins over the RPI top ten.
Bracket Projections
· ESPN Bracketology (Joe Lunardi): 5 seed vs. Colorado State/Xavier in Nashville
· CBS Sports (Jerry Palm): 6 seed vs. Mississippi State in Louisville
· Sports Illustrated (Andy Glockner): 4 seed vs. Seton Hall in Albuquerque
In their most recent updates, Palm has the Hoosiers in Louisville, Lunardi sends them to Nashville and Glockner ships the Hoosiers west to Albuquerque. The Bracket Matrix, which aggregates projections from around the web, has the Hoosiers as the last of the No. 4 seeds in their latest update. This much is clear: A 2-1 record to finish out the regular season would go a long way in solidifying IU on the four line and would greatly diminish their chances of being sent west.
Tournament Sites
· First round: Dayton
· Second, third round: Albuquerque, Columbus, Greensboro, Louisville, Nashville, Omaha, Pittsburgh, Portland
· Regional: Atlanta, Boston, Phoenix, St. Louis
· Final Four: New Orleans
Filed to: NCAA Tournament