Notebook: Sheehey returns to form against NC Central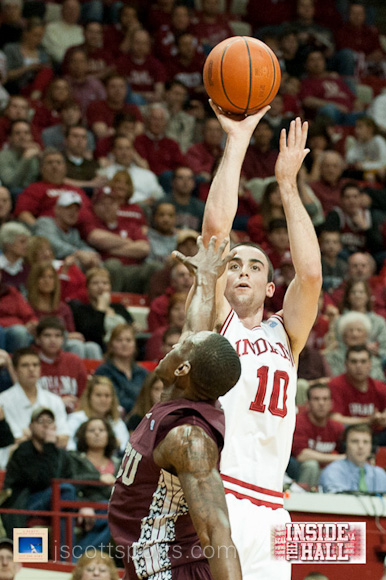 When Will Sheehey returned after sitting out five games with a high ankle sprain, it looked like he hardly missed a beat. He was one of Indiana's most effective players against Minnesota on Jan. 12, scoring 12 points on an efficient 5-of-7 shooting.
But since then, the production hasn't been the same. Sheehey hasn't moved as much without the ball, he hasn't gone to the glass as frequently, and he doesn't seem to have the same explosiveness he had before the injury.
That was until Wednesday against North Carolina Central.
Sheehey had 12 points on 6-of-9 shooting and added seven rebounds in the No. 23 Hoosiers' 75-56 win, his most productive offense game in more than a month.
In his previous 10 games, Sheehey scored a total of 56 points on a combined 20-of-50 shooting.
"I'm not 100 percent yet, and you can tell," Sheehey said. "I try to jump off one foot, and it's pretty ugly. I'm just trying to get back and play a part on the defensive side first. The rest will come."
WATFORD'S SHOOTING SLUMP CONTINUES
Christian Watford hit the biggest shot of the year for Indiana when he made a buzzer-beating 3-pointer to beat No. 1 Kentucky.
Lately, though, Watford is struggling to hit any shot at all.
The junior forward is in the middle of his worst slump of the season, having scored in double figures only twice in the last six games. Watford was 0-of-8 and scored only two points against North Carolina Central, and he's made only 4-of-24 shots in the last three games. He's scored a combined three points on 0-of-13 shooting in the last two.
Indiana coach Tom Crean said he isn't worried about Watford's struggles, pointing to the fact he has had a positive impact on the defensive end.
"Everybody wants to score points, everybody wants to have a free-flow game — it's not that way," Crean said. "We wouldn't be in this situation that we're in this season without the play of Christian Watford. The bottom line is, is he bringing things to the table that make us better in the game? There's nobody in here and there are very few people out there that want to deal with him when he's guarding them."
Watford's last 20-point game came on Jan. 5 when he torched Michigan for 25 on 8-of-11 shooting. Since then, he hasn't scored more than 18 points, and he's shot better than 50 percent in only two games.
HOOSIERS GET CELEBRITY MANAGER
Jim Harbaugh won the NFL Coach of the Year award last season after he led the San Francisco 49ers to the NFC Championship game. Just having him in Assembly Hall would be special for the Hoosiers.
But Harbaugh, Crean's brother-in-law, wanted to play a bigger role.
The former Colts quarterback, in town for the NFL Combine, sat on the end of the IU bench and took the chairs onto the floor during timeouts Wednesday night.
"I wanted to contribute," Harbaugh yelled from the back of the media room during Crean's postgame press conference.
Crean, for one, was thankful he did.
"He's a team guy," he said. "It goes to show why he's a very successful leader. There's no job above him, there's no job beneath him, and it's all about winning."
Crean said Harbaugh and 49ers general manager Trent Baalke — the NFL's GM of the year — spoke to the team before and after the game. Baalke was a roommate of IU assistant coach Tim Buckley at Bemidji State.
"It's an honor," guard Victor Oladipo said. "I know he's relatives with coach Crean but, at the end of the day, he's still who he is. For him to come in and talk to us and motivate us, it's a blessing."
Filed to: Christian Watford, Jim Harbaugh, Tom Crean, Will Sheehey