Hoosiers get chance to rebound after loss at Iowa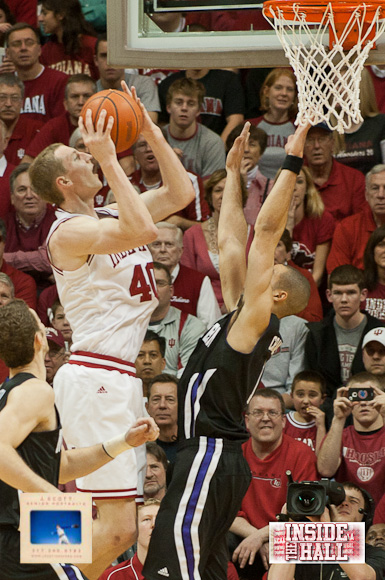 Indiana seemed to be out of sorts Sunday in Iowa City.
The Hoosiers wasted possessions with careless turnovers, missed free throws in bunches, and scored only 66 points against the same team they put 103 on just three weeks earlier.
But even through their struggles, Indiana coach Tom Crean believed his team would come back. He said the loss to the Hawkeyes had nothing to do with his players letting off the gas after getting to the 20-win plateau against Northwestern.
"We never saw any of that in practice, we never saw any of that in preparation," Crean said Tuesday. "We got off to a decent start to the game. We just turned the ball over, and then we were back on our heels.
"Even when the game got cut to 10, I still felt like we were going to win. But we made some mistakes. We made a couple mistakes on [Matt] Gatens. We were supposed to switch, we have our hands down, we misplay the screens — that's nine points right there. You can't do that when momentum is up for grabs."
Gatens scored a career-high 30 points against the Hoosiers, and hit four consecutive 3-pointers during one stretch in the second half to put the game away. Most of Gatens 3s were uncontested looks when Indiana players got caught behind screens. It simply didn't look like the same defense the Hoosiers have played at times this season.
Which prompted the question: Are the players fatigued?
Crean's answer: Not a chance.
"We just didn't have enough guys that were locked into the fight the other day," he said. "Like I told them earlier today, 'if you don't wanna be in the fight, you better marry well, or you better jump in while there's still some money around and jump in an unemployment line or something.'
"It's not easy. You've got to fight every day in this economy, in this world, but certainly in the world of sports. That's the way that it is. You're responsible for it, you're responsible for your own self determination."
The No. 23 Hoosiers (20-7, 8-7) will have a chance to correct some of their mistakes when they play North Carolina Central in a non-conference game at 7 p.m. tonight.
NC Central hasn't beaten a team in the RPI top 200, but it features Kansas State transfer and NBA prospect Dominique Sutton. Even though the Hoosiers get a brief break from the grueling Big Ten season, they said they can't afford to take NC Central lightly.
"If we don't come out and play to the ability that we know we can," junior forward Derek Elston said, "There's a chance that we could get embarrassed even. This team is no joke."
Filed to: Derek Elston, North Carolina Central Eagles, Tom Crean