Big Ten Power Rankings: Week 9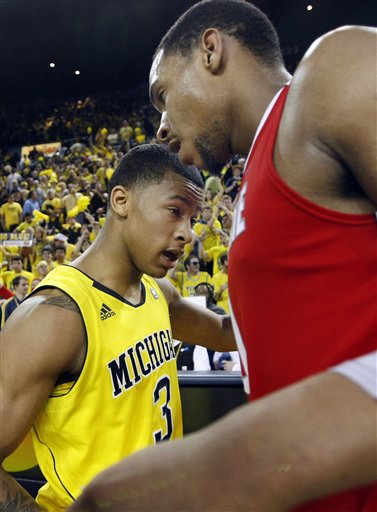 The Big Ten continues to be as balanced as any conference in the country as we get into the final weeks of the regular season. With Ohio State's loss at Michigan on Saturday, only Michigan State has fewer than four losses in conference play.
There was much movement in our ninth edition of Big Ten power rankings, but there is still plenty to be decided with four games left to go in the conference season (except Penn State, which only has three games remaining).
12. Illinois (16-11, 5-9) (LAST WEEK: 10)…Bruce Weber has completely lost his team now. The Fighting Illini competed with Purdue, but an 80-57 loss at Nebraska on Saturday was about as bad as it gets.
11. Penn State (12-16, 4-11) (LAST WEEK: 11)…The Nittany Lions beat Iowa at home and played well at Wisconsin on Sunday. Tim Frazier and Co. figure to be a tough out in the conference tournament early next month.
10. Nebraska (12-13, 4-10) (LAST WEEK: 12)…It wasn't that they beat a reeling Illinois club, it was that the Cornhuskers dominated the Illini to end a four-game skid. Nebraska only plays one more home game in its last four.
9. Minnesota (17-10, 5-9) (LAST WEEK: 9)…After two more losses, the Golden Gophers' tournament hopes are slipping away. They are just 1-5 in the month of February.
8. Iowa (14-13, 6-8) (LAST WEEK: 8)…The Hawkeyes picked up an impressive win against Indiana on Sunday after back-to-back road losses at Northwestern and Penn State. If Matt Gatens continues to shoot like he did against the Hoosiers, Iowa might just make a run in the Big Ten tourney.
7. Northwestern (16-10, 6-8) (LAST WEEK: 7)…They couldn't quite pull the upset at Assembly Hall, but give the Wildcats credit: They win the games they're supposed to win. They probably need three more wins to earn a spot in the big dance.
6. Purdue (17-10, 7-7) (LAST WEEK: 6)…Even without D.J. Byrd and Kelsey Barlow, the Boilermakers played inspired basketball against Michigan State on Sunday. Some have wondered if the Boilers can make the tournament without Barlow. I almost wonder if, like Ryne Smith said after Sunday's game, it isn't "addition by subtraction."
5. Indiana (20-7, 8-7) (LAST WEEK: 5)…An ugly loss at Iowa notwithstanding, the Hoosiers have played good basketball of late. But their play on the road continues to be a major concern.
4. Wisconsin (20-7, 9-5) (LAST WEEK: 4)…The Badgers lost at Michigan State and beat Penn State at home last week. They're just two games behind Michigan State for first place in the conference.
3. Michigan (20-7, 10-4) (LAST WEEK: 3)…The Wolverines beat Ohio State on Saturday, but the Buckeyes are still the better team. Regardless, Michigan is getting hot at the right time, and all four of its remaining games are winnable.
2. Ohio State (22-5, 10-4) (LAST WEEK: 2)…Did anybody think the Buckeyes would lose four conference games? They've lost two of three, and they still have to go to Michigan State to end the season.
1. Michigan State (22-5, 11-3) (LAST WEEK: 1)…They got tested at Purdue, but the Spartans pulled away in the second half for their fifth consecutive win. During that stretch, they've beaten the No. 2, 3 and 4 teams in our power rankings.
(Photo credit: AP/Tony Ding)
Filed to: Big Ten Power Rankings