Hoosiers know defense must be better against Iowa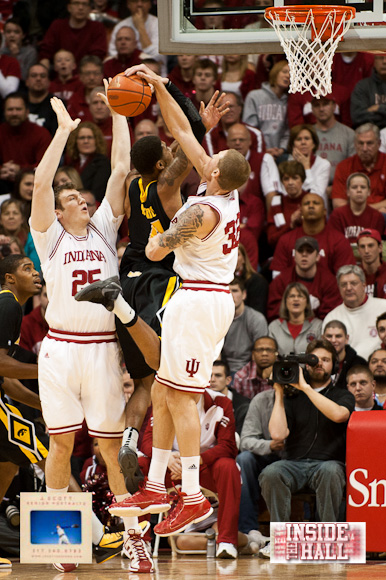 After Indiana beat Iowa 103-89 at Assembly Hall on Jan. 29, coach Tom Crean didn't want to talk about the fact the Hoosiers allowed Iowa to shoot nearly 80 percent from the field in the second half.
"I'll worry about that later," he said at the time.
Crean wanted to enjoy the Hoosiers' much-needed conference win instead of over-analyzing Indiana's inability to keep the Hawkeyes from scoring.
But as the No. 20 Hoosiers (20-6, 8-6) prepare to play Iowa for the second time at 6 p.m. today, Crean is taking a more critical look at the teams' first meeting.
"We've got to be way better defensively. That's the bottom line," Crean said in a release. "We allowed them to shoot to high of a percentage. There were times they really earned shots, especially (Josh) Oglesby, who had people in his face. But there were times we let their team get way too comfortable in the game. … We can't be in the situation where we go on the road and try to trade baskets with a high-powered team like Iowa."
Oglesby scored 24 points off the bench for the Hawkeyes the last time around, mostly from 3-point range. He made 6-of-8 shots from beyond the arc and helped Iowa score 52 points in the second half.
The Hoosiers were able to withstand Iowa's charge, however, because they dominated on the offensive end. That will likely be more difficult in Iowa City. Indiana has scored 70 or more points only twice in conference road games this season.
"When you are on the road, I think it's important to get some shots to fall down early," Indiana guard Jordan Hulls said in a release. "Playing on the road is no easy task for sure. We need to be prepared for a dogfight."
The Hawkeyes (13-13, 5-8) have little left to play for, but they are tough to beat on their home floor. They've won three of their last four at home, including a 16-point win against then-No. 13 Michigan.
For the Hoosiers, the game is much more significant.
A win would be their fourth in a row and their second consecutive victory on the road, and it would put them in a tie for fourth place with Wisconsin.
"We have had some success this year on the road and we just have to build on that," Indiana forward Tom Pritchard said in a release. "We need to try and get the crowd out of the game and rely on our own energy."
Filed to: Iowa Hawkeyes