Zeller more than just a post player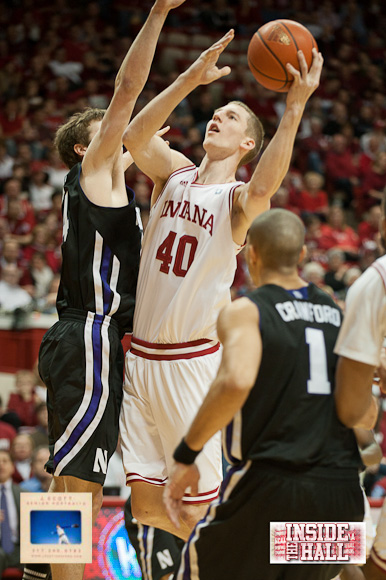 Indiana freshman Cody Zeller has played against some of the best big men in the nation, and fared well.
He's seen Kentucky's Anthony Davis, Ohio State's Jared Sullinger and Illinois' Meyers Leonard already this season.
When the No. 18 Hoosiers played Northwestern on Wednesday night, Zeller faced no such challenge. The Wildcats started the game without a true post player on the floor and attempted to guard Zeller with the 6-9 John Shurna.
Zeller had a clear mismatch, and he figured to get his. But Northwestern figured it would also have a mismatch on the other end with the Hoosier center forced to guard a perimeter player.
The Wildcats gained no such advantage. Zeller started the game on guard Reggie Hearn, and he proved to be anything but a defensive liability in Indiana's 71-66 win.
"Cody is gonna show people that he's a lot more than just a big guy and a guy that plays around the bucket," said Indiana coach Tom  Crean. "He's an athlete. He's a basketball player that happens to be very tall. He was on the perimeter tonight more than he's been on the perimeter in any two or three games combined."
Offensively, Zeller was his normal self, finishing with 23 points on 9-of-11 shooting and seven rebounds. The key for the Hoosiers (20-6, 8-6) was that he didn't give up just as many points on the other end.
"How tall is he?," Northwestern coach Bill Carmody asked facetiously, suggesting Zeller didn't play like the 6-11 he is. "He's very nifty in the post. We had him perfectly scouted, but he just goes by you or gives you a shoulder and he spins. He's got a shot for most situations within 15 feet. Nothing fazes him that much. He's got a lot of poise for a young guy."
Carmody was asked, besides Zeller, how Indiana is different than the team that Northwestern beat a year ago.
"Besides that Mrs. Lincoln, how'd you like the play?," Carmody quipped. "The guy's a really good player. He's not just a good freshman player, he's a really good player in this conference. He doesn't have too many weaknesses. He doesn't shoot the ball outside, but I'm not saying he couldn't."
SHURNA GOES OFF, BUT SOBOLEWSKI HELD IN CHECK
Shurna had his way with the Hoosiers for much of the game. The senior made almost every possible type of shot on his way to a game-high 29 points.
Indiana had trouble stopping him and Drew Crawford — who scored 18 points — but it didn't matter. The rest of the Wildcats combined for only 19 points on seven field goals. Freshman Dave Sobolewski, who entered the game averaging 9.1 points per contest, had only three points on 1-of-5 shooting.
"If you allow all three to beat you, you're probably going to lose the game.," Crean said. "The job we did on Sobolewski was equally as important as the job we did at the end on John Shurna."
CREAN LOOKS BACK
After the Hoosiers' win, Crean was asked if this year's team compared to any of his Marquette teams of old.
While he said this year has been unique because of what the current players have been through, Crean said this year's team is somewhat similar to his 2005-06 Marquette team that featured freshmen guards Dominic James, Wesley Matthews and Jerel McNeal, and senior Steve Novak.
That Marquette team made the NCAA tournament and lost in the first round.
"We had some other guys that really had to really pick their roles up," Crean said. "That team was really underestimated and undervalued, and they played pretty well. But that probably wouldn't do justice to what everybody's been through here."
ETC.
Indiana is 12-0 this season when Victor Oladipo scores 11 or more points. He had 12 points against Northwestern.
Tom Pritchard and four points and five rebounds in only five minutes in the first half. Both of his baskets were tip ins.
In the last 20 years, only two other IU teams have reached 20 wins in fewer games than this year's Hoosiers (1992-93: 22 games and 2007-08: 23 games).
Filed to: Cody Zeller, Tom Crean