Jones silences critics with second half play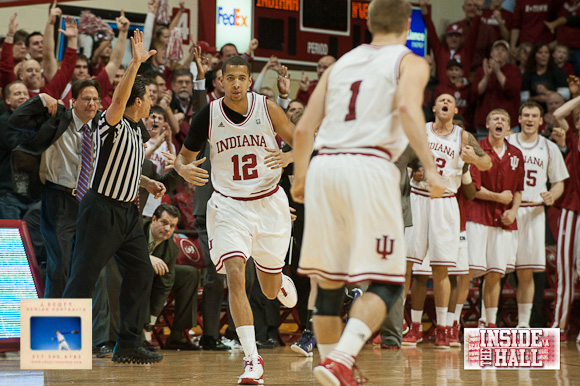 The question heading into Wednesday night's game with Northwestern was how Indiana, fresh off a pair of convincing wins, would reintroduce senior Verdell Jones into the rotation.
Jones, who left a loss at Michigan back on Feb. 1 with a shoulder injury, had started the season's first 23 games, but the Hoosiers didn't seem to miss him in a 17-point win at Purdue or a 13-point win against Illinois.
An increased ball-handling presence from Victor Oladipo was something Tom Crean said he didn't see a reason to change in his pregame meeting with the media.
So where exactly would Jones, who has spent the majority of his IU career with the ball in his hands, fit?
The senior from Champaign, Ill. entered the game at the 14:23 mark, but his first half was forgettable. Eight minutes. Two assists. Zero points. Indiana hit the locker room with a six-point lead.
But as Northwestern mounted a 54-51 lead halfway through the second half, Crean looked down the bench for a veteran presence to help negate the effectiveness of the Wildcats' swarming 1-3-1 zone.
And Jones delivered with three key baskets down the stretch, including a 19-footer with 31 seconds remaining, to lift Indiana to its 20th win.
He finished with six points, four assists, three rebounds, two steals, a blocked shot and no turnovers in 18 minutes.
"I thought he responded in a really good way especially in the second half," Crean said of his senior guard. "As impressive as his scoring was, the eight deflections for us were even more impressive. He did really good things defensively in a really tightly-contested game."
Jones, who admitted he was fatigued in the first half, showed no hesitation over the game's final 4:04.
His first bucket from the left wing was reminiscent of the game-winner he hit against Michigan on Jan. 5. He followed that with a sweeping layup to push IU's lead to four with 2:53 remaining.
And as Northwestern played for a stop in the game's final minute, Jones buried a deep two to put Indiana up six.
"I thought the first half I was just too passive. I think I was a little nervous," Jones said. "The second half I definitely wanted to be more assertive because I felt like the first half I was just a guy out there not giving the team enough."
Jones' performance late showed that he's still a valuable piece for a program headed for its first NCAA Tournament berth since the 2007-08 season. His experience over the past three and a half seasons can't be discounted.
"He's a veteran that knows he can play," Crean said. "He's been through the battles. There should be no reason to be tentative."
Still, questions will continue to be asked about his role moving forward. Jones has been perhaps the most discussed and debated player among fans in recent memory. He even heard a smattering of boos in a game earlier this season that he says served as motivation.
"I've been doubted and hated on ever since I was a little kid," he said. "Things like that have motivated me to go beyond what people expect.
"People said I was too skinny to play big Division I basketball. Proved them wrong. People said I couldn't go a game without a turnover. That's two games I've proved them wrong. Everything that I hear, the boos, all that, it motivates me to levels that you don't even understand."
Filed to: Northwestern Wildcats, Verdell Jones