What to Expect: Northwestern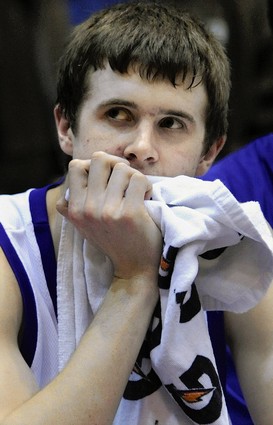 After a six-day hiatus, the Hoosiers return to Branch McCracken Court on Wednesday night in a meeting with Northwestern. The Wildcats have dropped four of seven following an upset of Michigan State on Jan. 14.
The game will be shown on the Big Ten Network (Tom Hart and Eddie Johnson) and broadcast on the IU radio network (Sirius 91/XM 91):
Is this the year Northwestern finally breaks through and earns a NCAA Tournament bid? If there's a Big Ten team that could benefit this March from the field's recent expansion to 68 teams, it may be the Wildcats. A quick survey of various mock brackets suggests Northwestern is currently the definition of a bubble team. As of Monday afternoon, Bill Carmody's club occupies one of the "first four out" spots in Joe Lunardi's "Bracketology" on ESPN.com.
However, what's missing from their resume is a road win against a team in the upper half of the conference. Their final chance comes Wednesday night at Assembly Hall as the Wildcats' two remaining Big Ten road games are at Penn State and Iowa. The game is the final conference single play for both the Hoosiers and Wildcats.
Northwestern, much like Indiana, is one of the Big Ten's best offensive teams, but struggles defensively. The Wildcats have scored a healthy 1.08 points per possession in league games, but are surrendering 1.13 points per possession, which is last in the conference. So while the Hoosiers should face little resistance in putting points on the board, Northwestern presents problems with its Princeton-style offense. Its different look can make preparation difficult.
The key to Northwestern keeping this one close is 3-point shooting. No Big Ten team has a higher point distribution from behind the arc, as 37.6 percent of Northwestern's points are coming from distance and they're shooting 40.6 percent on threes in conference play. The Wildcats are also getting to the foul line (40.7 free throw rate) at a nice clip, but they're the worst offensive rebounding team in the Big Ten which could lead to a long night if they're not hitting from the perimeter.
When the Hoosiers have the ball, they should have their pick of how to attack. Northwestern's 1-3-1 zone leaves plenty of holes on the perimeter as evidenced by the 3-point percentage (40.6) its allowing to conference foes. Indiana should still look to play through Cody Zeller first, but Northwestern's lack of size inside could lead them to overplay him and thus open up the 3-point line even more. The Wildcats are the Big Ten's second-worst defensive rebounding team, so Zeller and the Hoosiers should have some second-chance opportunities as well.
Northwestern has three players — John Shurna, Drew Crawford and Reggie Hearn — shooting over 40 percent from behind the arc. Shurna is hitting nearly 44 percent of his threes. He also leads the Big Ten in scoring at 19.9 points per game. And Crawford, who is option 1A in the Northwestern offense, is hitting 41 percent of his threes. As a duo, Shurna and Crawford account for over half of Northwestern's points per game.
With the graduation of Michael "Juice" Thompson, Carmody has shuffled in a freshman, Dave Sobolewski, to man the point guard position. Sobolewski is charged with limiting his turnovers and managing the game, which he's done well with just a 13.8 percent turnover rate. His 3.9 assists per game lead the team and while he doesn't look to score much, his 9.1 points are third for Northwestern.
The aforementioned Hearn, a wing, is a capable 3-point shooter and is hitting 67.4 of his twos but doesn't shoot enough to warrant much concern. Guard Alex Marcotullio is a 3-point specialist that's attempted 61 of his 74 field goal attempts from outside. The frontcourt minutes are divided between Luka Mirkovic and Davide Curletti, who both provide a little something different. Mirkovic is the closest thing to a true big on the roster and is a capable defensive rebounder. The 6-foot-9 Curletti doesn't provide the strength or rebounding ability that Mirkovic does. Instead, he likes to step out despite hitting on just 5 of his 19 attempts from three this season.
Indiana's offensive firepower will likely be too much for Northwestern to overcome, but given the circumstances and the NCAA Tournament possibilities, the Wildcats will likely come out desperate in their effort to pull off the upset. If the Hoosiers allow Shurna or Crawford to get on a roll, Northwestern becomes a tough team to put away as Illinois learned at home on Feb. 5. Pomeroy likes the Hoosiers to win fairly convincingly in a high scoring game, 85-71, and gives Northwestern just a 14% chance of pulling off the upset.
Filed to: Northwestern Wildcats