Big Ten Power Rankings: Week 8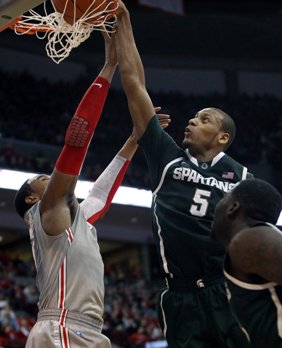 Michigan State is heading in one direction and Illinois is going the opposite way. After the Spartans upset Ohio State in Columbus, we have a shake-up at the top of this week's power rankings. The bottom also looks different as the Fighting Illini continue to fall out of the race.
Here is the eighth edition of Inside The Hall's Big Ten power rankings.
12. Nebraska (11-13, 3-10) (LAST WEEK: 11)…It's beginning to look like the Cornhuskers are running out of steam in their first season in the Big Ten. After beating Iowa on Jan. 26, Nebraska has lost four straight — three of which came against teams in the bottom half of the conference (Northwestern, Minnesota and Penn State).
11. Penn State (11-15, 3-10) (LAST WEEK: 12)…A home win against Nebraska gets the Nittany Lions out of the bottom spot for the first time in weeks.
10. Illinois (16-9, 5-7) (LAST WEEK: 6)…The free fall continues for the Illini after losses at Indiana and Michigan. Illinois has lost six of seven, including defeats to Penn State, Minnesota and Northwestern. Bruce Weber will likely be on his way out if the Illini don't turn it around in a hurry.
9. Minnesota (17-8, 5-7) (LAST WEEK: 9)…An overtime loss to Wisconsin is usually nothing to be ashamed of, but the Golden Gophers really needed that one to improve their chances of making the NCAA tournament. Given the strength of their remaining schedule, the Gophers might not win again until the season finale against Nebraska.
8. Iowa (13-12, 5-7) (LAST WEEK: 8)…An 83-64 loss at Northwestern last week was the fifth time this season the Hawkeyes have given up at least 80 points on the road. They haven't given up that many points on any occasion at home.
7. Northwestern (15-9, 5-7) (LAST WEEK: 10)…The Wildcats followed up a win at Illinois with a pretty impressive showing against Iowa, but couldn't quite steal one at Purdue. Northwestern is still in the thick of it, though, with a few winnable games remaining on the schedule.
6. Purdue (16-9, 6-6) (LAST WEEK: 7)…It just seems like the Boilermakers belong in this spot. Why? Because they are perhaps the perfect definition of an average team. They are good enough to beat the teams in the bottom half of the conference, but not the league's top five teams. The way this season has gone, I expect Purdue to finish 9-9 and be right on the tournament bubble.
5. Indiana (19-6, 7-6) (LAST WEEK: 5)…The Hoosiers seem to have righted the ship after a tough start at Michigan. Now, Tom Crean faces the challenge of keeping his team sharp with nearly a week in between games.
4. Wisconsin (19-6, 8-4) (LAST WEEK: 4)…They earned a big road win at Minnesota, but the Badgers still have to go on the road to play Michigan State and Ohio State.
3. Michigan (19-7, 9-4) (LAST WEEK: 3)…The Wolverines played two struggling teams last week, but they took care of business and did what they were expected to do. Can the Wolverines take out Ohio State at home like they did Michigan State?
2. Ohio State (21-4, 9-3) (LAST WEEK: 1)…The Buckeyes had close calls against Wisconsin and Purdue, and then got beat by Michigan State at home. When they go to East Lansing for the season finale, a conference title could be very much up for stake.
1. Michigan State (20-5, 9-3) (LAST WEEK: 2)…After a loss at Illinois, the Spartans are suddenly the conference's hottest team. They've won three straight, including victories against Ohio State and Michigan. Tom Izzo's team looks poised to make another run late into March.
Filed to: Big Ten Power Rankings