Zeller, Leonard have changed the game for their teams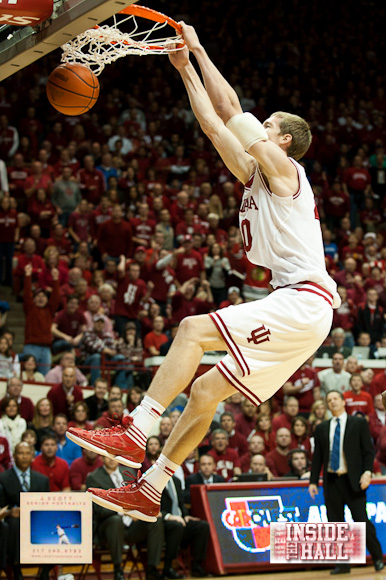 A year ago, Meyers Leonard rarely saw the floor for Illinois. The big man played only eight minutes per game and averaged 2.1 points and 1.2 rebounds.
Last year, Cody Zeller was helping Washington (Ind.) High School to its second straight state title, Big Ten basketball hardly on his mind.
Both Leonard and Zeller have quickly developed into dynamic college centers that have completely changed the way their respective teams play. The guard play is still there on both teams — Illinois has Brandon Paul, for example — but the men in the middle are now the focus of many opposing team's game plans.
"It's different because it's a different type of breed," Indiana guard Victor Oladipo said Thursday. "There aren't a lot of 7-footers who are agile, can run and jump like Cody and Meyers."
Leonard and Zeller's games are so similar that if you only read comments from players and coaches, it would be almost impossible to tell which guy they were talking about.
"He's huge, he's a big guy. He can hit a little jump hook, he can step out and hit midrange. You just have to be with him all the time, stay attached. He's really athletic so you can't let him get any easy lobs."
That's Indiana guard Jordan Hulls talking about Leonard, a 7-1 sophomore who has increased his averages to 13.3 points and eight rebounds this season. He's shooting 58 percent from the field and has scored 20 or more points four times.
Zeller, in comparison, is averaging 15.1 points and 6.4 rebounds per contest. He is shooting 65 percent from the field, and he also has had four games with 20 or more points.
Despite their similarities and the fact they'll be matched up against each other when the teams meet tonight at Assembly Hall, Indiana coach Tom Crean shook off a question about Leonard being a defensive challenge for Zeller.
"He's a challenge for our entire team," Crean said. "Much the same that I'm sure they're focused on their team guarding Cody, we're focused on our team in the sense of Meyers Leonard. It's not an individual matchup game."
While they've yet to meet in a college game, this won't be the first time Zeller and Leonard have taken the floor against each other. Leonard remembers playing against Zeller in junior high AAU ball when Zeller was with the Washington Hatchets.
"He was always a guard so I never guarded him or anything, but I always remember him being pretty skilled. He could shoot," Leonard said. "It's weird that we're completely different players now."
They are completely different players now compared to their junior high days, and they've taken the Big Ten by storm. After Ohio State's Jared Sullinger and Michigan State's Draymond Green, Zeller and Leonard have been the most productive big men in the league.
Indiana has played against both Sullinger and Green, but the Hoosiers have yet to face a guy quite like Leonard — except in practice.
Oladipo was asked when the last time he faced a 7-footer that was as athletic as Leonard.
"Cody Zeller," Oladipo joked.
"I'm not sure. He's probably the first."
Filed to: Cody Zeller, Illinois Fighting Illini, Meyers Leonard