The Minute After: Illinois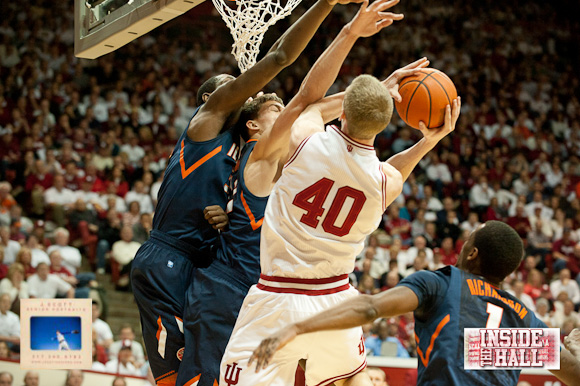 Thoughts on a 84-71 win against the Illini:
Back and forth, back and forth she went.
Indiana surged. D.J. Richardson responded and drained threes. Meyers Leonard shouldered Cody Zeller to the ground in the first half;  Zeller countered with an elbow to Leonard's mouth en route to a bucket in the second half. Matt Roth and Myke Henry mixed it up. If Saturday's tilt with Purdue was rivalry, this was more like a heavily-officiated fight.
But after the under-8:00 media timeout in the second half, it was pretty much all Hoosiers.  Leonard — who certainly didn't win over any Indiana fans with his immaturity this evening — came back into the game with four fouls, and thus didn't defend quite as intimidating as he had in the game's first 30 minutes. And the Illini, who had been shooting rather well, went cold. So Indiana capitalized. After a Christian Watford 3-pointer with 5:49 to go extended Indiana's lead to 12, the Hoosiers kept a double-digit lead all the way to the final horn.
Besides the final stretch, Indiana's big advantage in this one came at the line. The Hoosiers were a perfect 16-of-16 at half; the Illini only shot 12-of-15 all game. Indiana went on to finish the night an impressive 35-0f-42 (83.3 percent) from the charity stripe. And get this: The Hoosiers' free throw rate (FTA/FGA) was a ridiculous 100.0 — 42 trips to the line, 42 field goals attempts. Victor Oladipo went 10-of-12 on free throws and scored 18 points. In his second straight game with more ballhandling duties due to Verdell Jones' shoulder injury, he continued to impress. The flow of Indiana's offense with him slashing to the hoop and making decisions has been strong in their last two wins, and you wonder where it fits in when Jones is healthy enough to play again.
And then there was The Big Handsome. Leonard outplayed him in the first half. He was the agressor. He wanted the ball in the post, got it and scored at will. Fifteen points at the break. But Zeller is not one to get excited, to try desperately to counter at expense of the team game, at expense of his maturity and air-tight demeanor. So it was in the second half where the more polished big man would make his mark. Leonard struggled with fouls; he picked up his fourth on pure emotion, trying to mix it up when he re-entered the game fresh off his third foul, a play featuring the aforementioned Zeller elbow. And so Indiana's freshman just kept grinding and scoring and doing as he always does, as he always will — eventually winning this bout which was a joy to watch unfold. He finished the night with a game-high 22 points (5-of-8 from the field, 12-of-14 from the line). Leonard ended it sulking on the bench and fouled out, just like teammates Brandon Paul and Nnanna Egwu.
Another impressive W for Indiana. Their three-game rough patch now but a distant memory. The schedule continues to be favorable. The Hoosiers are one win away from a 20-win season.
And yes, it's reality: March beckons.
SOME NUMBERS
+ Christian Watford (18 points on 6-of-11 shooting, 2-0f-4 from three, 4-of-4 from the line) had a nice effort after a rough shooting night at Mackey Arena on Saturday night. Jordan Hulls also had a strong offensive showing this evening and scored 15 points. (4-of-8 from the field, 3-of-4 from three, 4-of-6 from the line).
+ Indiana scored 1.34 points per possession in this one; the Illini scored 1.08.
Filed to: Cody Zeller, Illinois Fighting Illini