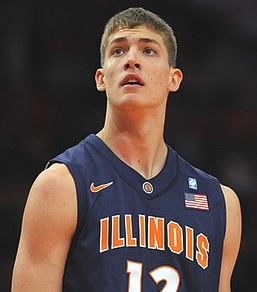 After a road win over the Boilermakers on Saturday night in Mackey Arena, the Hoosiers return home to Assembly Hall for a Thursday night meeting with Illinois. The Fighting Illini have dropped four of five and are 1-3 on the road in Big Ten play.
The game will be shown on the Big Ten Network (Gus Johnson and Jimmy Jackson) and broadcast on the IU radio network (Sirius 94/XM 192):
With the meat of their Big Ten schedule out of the way, the Hoosiers will now have the luxury of finishing the conference slate with four of their six remaining games at Assembly Hall. Their two road single plays (Nebraska, Wisconsin) produced a pair of losses and now the Hoosiers will get their home single plays (Illinois, Northwestern) in back-to-back games.
The Fighting Illini have been the victim of some tough luck in recent weeks as their four losses since Jan. 19 have come by a combined total of 15 points. Bruce Weber's club looks to be solidly in the NCAA Tournament field as of today, but with trips to Bloomington, Ann Arbor, Columbus and Madison still remaining, that could change.
Illinois is the Big Ten's third worst offensive team in conference play at just .98 points per possession, but they've made up for it by giving up just .99 points per possession (4th in the conference). Their defense is anchored by the post presence of Meyers Leonard, a 7-foot-1 sophomore who is projected to go in the first half of next June's NBA Draft. Leonard is a big reason why Illinois is the third-best shot blocking team in conference and the Illini are giving up a 2-point field goal percentage of 46.8.
Offensively, the story is much more grim for Illinois. They're turning it over at a high rate in league play (22.2 TO%) and are shooting just 32.2 percent from 3-point range. The Illini have been effective inside the 3-point line (51.3% on 2s), but their offense has been mostly predicated on Brandon Paul hunting looks when he's on the court. Paul is just one of three players in the conference using more than 28% of his team's possessions.
Paul is the centerpiece and unquestioned go-to-guy on this Illini team. He's already got a 43-point game under his belt in a win against Ohio State and while he's not always efficient, he typically finds a way to put up points. Paul's 127 free throw attempts lead the team. He's a threat to get going from the perimeter, but is more effective and probably better suited attacking off the dribble. Paul also has a team-high 71 assists.
Joining Paul in the rotation are junior D.J. Richardson, sophomore Joseph Bertrand, freshman Tracy Abrams and senior Sam Maniscalco. Richardson is shooting 38.4 percent on 3s and takes care of the ball (13% TO) better than anyone else in the backcourt. Bertrand's role has increased significantly in conference play and from the wing; he's a 6-foot-5 slasher that is effective scoring around the basket (58.8 percent on 2s).
Adams has taken over the majority of Maniscalco's minutes and is a solid distributor with an assist rate of 17.6 percent. Maniscalco was expected to be the answer at point guard as a postgraduate transfer from Bradley, but has battled an ankle injury and since his return on Jan. 19 at Penn State, has a total of just three points and seven assists in five games.
Up front, Leonard is the only reliable contributor on the roster. He's second on the team in scoring and first in both rebounds and blocked shots. Leonard ranks as the Big Ten's third best defensive rebounder behind Ohio State's Jared Sullinger and Michigan State's Draymond Green. His matchup with Cody Zeller will be intriguing as both players are both future first-round picks, but possess contrasting games. Leonard is far less polished and skilled offensively but is stronger on the glass, is more athletic and is a better shot blocker.
The Hoosiers are a 3-point loss to Minnesota away from being unbeaten at home and Illinois has won just two true road games all season. The advantage of playing in Bloomington's Assembly Hall should continue to be one of the biggest advantages in all of college basketball. Pomeroy likes the Hoosiers by eleven (74-63) and gives Illinois just a 17% chance of pulling off the upset.
Filed to: Illinois Fighting Illini