Big Ten Power Rankings: Week 7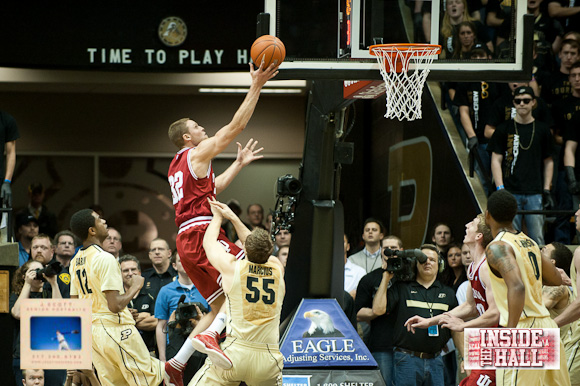 After a week with little movement, six teams are in a new position in week seven of our Big Ten power rankings. The changes come in the bottom half of the rankings as the top four teams in the conference have begun to pull away from the pack.
12. Penn State (10-14, 2-9) (LAST WEEK: 12)…They played with a good Wisconsin team at home for awhile, but the Nittany Lions just don't have enough late-game options to compete in the conference. Penn State has lost four straight and seven of eight.
11. Nebraska (11-11, 3-8) (LAST WEEK: 9)…The Cornhuskers dropped two winnable games this week, one at Northwestern and the other against Minnesota. Uncharacteristically, Nebraska has given up 69 or more points in five straight games.
10. Northwestern (14-8, 4-6) (LAST WEEK: 11)…They needed a good week, and the Wildcats got one. Back-to-back wins — including one at in-state rival Illinois on Sunday — has closer to the NCAA Tournament bubble.
9. Minnesota (17-7, 5-6) (LAST WEEK: 7)…The Golden Gophers could have continued their climb in the power rankings had they held onto a sizable lead at Iowa. Still, they're a team to watch as we get closer to the Big Ten Tournament.
8. Iowa (13-11, 5-6) (LAST WEEK: 10)…They had their chance to fold after an ugly loss at Indiana and a dreadful start against Minnesota, but the Hawkeyes bounced back nicely for two wins this week. They're on the road for the next two against Northwestern and Penn State, but both are winnable.
7. Purdue (15-8, 5-5) (LAST WEEK: 6)…The Boilermakers saw their chances for an at-large NCAA Tournament bid take a significant blow with a home loss to Indiana on Saturday. Purdue has dropped three of four and has a trip to Columbus to play Ohio State coming on Tuesday.
6. Illinois (16-7, 5-5) (LAST WEEK: 8)…Much like many of the teams in the Big Ten, Illinois is too inconsistent to be considered an elite team. The Fighting Illini beat both Ohio State and Michigan State at home, but their home loss to Northwestern was their fourth defeat in five games.
5. Indiana (18-6, 6-6) (LAST WEEK: 5)…A slow start at Michigan was worrisome, but the Hoosiers bounced back with a big win at Purdue. Now they've got to take care of business at home on Thursday against Illinois.
4. Wisconsin (18-6, 7-4) (LAST WEEK: 4)…The Badgers didn't quite have enough to beat Ohio State at home, but they proved a lot by the way they competed.
3. Michigan (17-7, 7-4) (LAST WEEK: 3)…The Wolverines split games with Indiana and Michigan State last week. They continue to grow as a team, and freshman point guard Trey Burke looks more like a veteran with each passing game.
2. Michigan State (18-5, 7-3) (LAST WEEK: 2)…They struggled down the stretch in a disappointing loss at Illinois, but the Spartans returned to form with a big home win against rival Michigan. Still, the Spartans need to start playing better on the road where they've now lost three straight games.
1. Ohio State (20-3, 8-2) (LAST WEEK: 1)…After losing to Illinois on Jan. 10, the Buckeyes have won five consecutive games — including three against ranked teams. They beat a hot Wisconsin team at the Kohl Center on Saturday night.
Filed to: Big Ten Power Rankings