Hoosiers reverse road fortunes in West Lafayette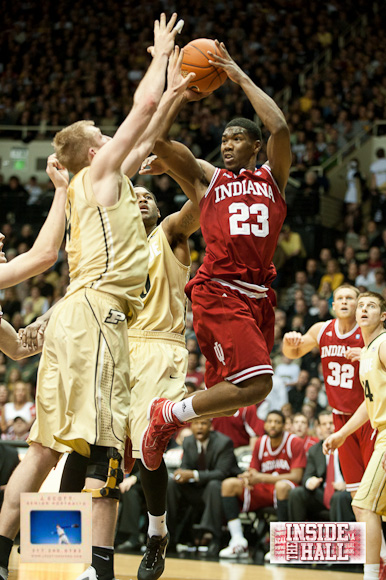 WEST LAFAYETTE, Ind. — As a 13-point lead melted to four with 3:27 remaining, this group of Hoosiers found themselves at a crossroads.
Recent history playing away from Assembly Hall in the Big Ten suggested that Purdue had Indiana right where it wanted them. The Hoosiers had not beaten any conference team besides Penn State on the road since the 2007-2008 season.
But as the Paint Crew reached a fever pitch and momentum shifted to the Boilermakers, Indiana took a road they've rarely traveled in recent seasons away from Bloomington. The Hoosiers did what they couldn't do in Lincoln, Madison or Ann Arbor: finish well down the stretch.
First it was a block by Will Sheehey on a shot by Lewis Jackson that would've cut the lead to two. And then it was Remy Abell's 3-pointer from the corner at the 1:27 mark to put the game out of reach.
Both plays were made possible because Indiana put together its most complete effort from start to finish all season on the road. The Hoosiers were basically in control throughout the contest.
"To me, it looked like it meant more to them," Purdue coach Matt Painter said. "Just right from the start, looking, you can see guys' facial expressions, you can see guys body language, I thought they were more engaged."
It hasn't been that way as of late for Indiana on the road in the Big Ten.
The Hoosiers were never able to fully recover in slow starts at Ohio State and Michigan. At Nebraska and Wisconsin, Indiana couldn't come up with the key plays Sheehey and Abell made in Mackey Arena on Saturday night.
"It's big for us," Indiana guard Victor Oladipo said. "It should boost our confidence a little bit. We should do stuff like that. We're a really good team."
With Verdell Jones out of the lineup with a bruised shoulder, Victor Oladipo and Abell both took on increased roles. Oladipo moved from the wing to primary ball handler and Abell, who has been used sparingly, played more like an upperclassmen than a freshman with limited experience.
Purdue couldn't keep Oladipo out of the lane or off the foul line. The sophomore guard finished with a career-high 23 points, eight rebounds and four assists. As the game moved along, his confidence grew.
"I thought he did a good job of picking his spots and getting by us," Painter said. "Obviously getting to the free throw line twelve times really helped them."
Abell, who played a career-high 19 minutes and finished with a career-high 13 points, showed that he's ready to shoulder a bigger role moving forward. The freshman from Louisville showed no hesitation when he received a pass from Christian Watford in front of the IU bench and knocked down a shot to push Indiana's lead to nine.
"That's a big shot for Remy," Oladipo said. "He's just growing every day and he's becoming a great player. He just needs to continue to do what he's doing and working hard. I'm proud of him."
Yet, more important than the individual performances or plays is the fact that Indiana is responding to adversity with positive results late in the season. Losses snowballed late in Big Ten play the past few seasons. This team appears destined for a much different finish.
"You take your hat off to them. They've been at the bottom," Purdue guard Lewis Jackson said. "They've lost to us three years in a row. They're tired of hearing it. You just see the maturity and the fight over there and that's a team that came together."
Filed to: Remy Abell, Victor Oladipo