This is what Indiana-Purdue is all about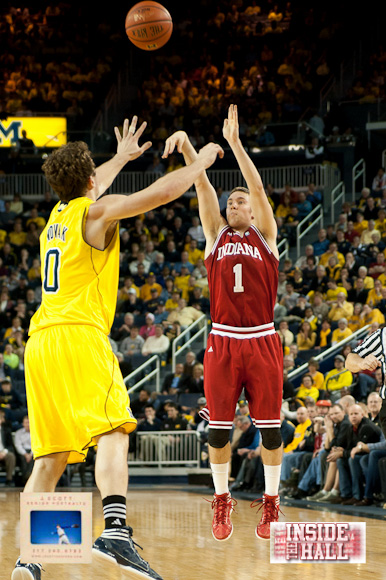 This is what Indiana-Purdue is supposed to be: Two teams right in the thick of the Big Ten race, both desperately needing a win to put themselves in the best position for the postseason.
It's been awhile since we've had this. Sure, there have been competitive games in football and basketball over the last few years, but Indiana has rarely had more than pride on the line. The Hoosiers competed, stayed in the game, and then lost.
It was hardly even still a rivalry.
But the Hoosiers are back, and Purdue still has plenty left to play for. The Boilermakers are the only Big Ten team without a win over a ranked opponent.
For Indiana, Saturday night's game at Mackey Arena could be viewed as a "must-win." With the Hoosiers' struggles on the road in the Big Ten, a fifth consecutive loss away from Assembly Hall would all but kill this team's confidence the rest of the way. They've still got winnable road games against Iowa and Minnesota left, but lose this one, and those two look a whole lot tougher.
Indiana's incredibly slow start at Michigan on Wednesday gave it little chance to come back. The Hoosiers had a similarly slow start at Ohio State before playing a better second half.
If they want to beat Purdue and alter their recent fortunes away from Assembly Hall, they can't afford to fall behind by double-digits before they find their rhythm.
"I feel like we just got rushed in the beginning," junior Derek Elston said Friday. "A lot of the guys weren't playing their game. We let the defense kind of dictate what was going on. After a TV timeout, coach just kept harping that we have to keep playing our game no matter what, don't let them speed us up, keep playing IU basketball.
"I think in the beginning we were trying to make that home run play when we just needed to make the single."
So what's the key to starting faster?
"Not turning the ball over and playing better defense," said guard Jordan Hulls.
Seems simple enough. But it won't be easy considering the game is just as meaningful — if not more — for the Boilermakers. With a game at Ohio State next and road games against Indiana and Michigan still to come, Purdue can't afford to drop another home game.
"Every league game is being played at such a high level, they are all played like a rivalry game," Indiana coach Tom Crean said in a release. "The coaches and players in the Big Ten all understand the importance of each conference game, and I wouldn't expect anything different (Saturday) night."
Both teams have so much to play for that the in-state rivalry factor is just icing on the cake.
That's what Indiana-Purdue is supposed to be about. Saturday night, the rivalry finally returns.
Filed to: Derek Elston, Jordan Hulls, Purdue Boilermakers, Tom Crean