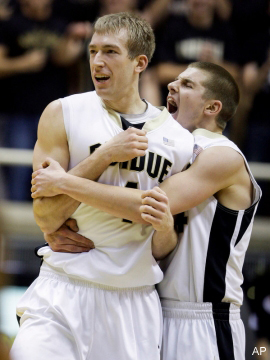 The Hoosiers will look to avoid a five-game road losing streak on Saturday night in West Lafayette in a meeting with the Purdue Boilermakers. Indiana's last win over Purdue came on Feb. 19, 2008 at Assembly Hall. 
The game will be shown on the Big Ten Network (Dave Revsine and Jimmy Jackson) and broadcast on the IU radio network (Sirius 92/XM 190):
The road in the Big Ten won't get any easier for Indiana on Saturday night. Purdue is looking to solidify its NCAA Tournament resume and a win over the Hoosiers in Mackey Arena would be a step in that direction. With a trip to Columbus looming next, the Boilermakers are viewing this game as a must-win.
For the Hoosiers, this is one of three chances remaining to beat a Big Ten team on the road not named Penn State. In terms of entering a hostile environment, Indiana has not and will not face a more daunting task than Mackey Arena. The Boilermaker faithful are always charged up to play the Hoosiers, but Saturday night should be an electric atmosphere given Indiana's resurgence this season and success in recruiting. The good news for Indiana is that Purdue has dropped two of its last three at home. If they can avoid a start like Wednesday night, this could be an opportunity to quickly swing momentum back to the positive side.
A LOOK AT THE NUMBERS
Both teams will enter Saturday's game with a negative efficiency margin in league play. Indiana is scoring 1.09 points per possession while surrendering 1.10 and Purdue is scoring 1.04 points per possession while surrendering 1.07. The Hoosiers have hovered near the bottom of the Big Ten defensively all season. And Purdue, the top Big Ten defense a season ago, has fallen to the bottom half of the league.
The main hole defensively for Purdue is defending the 3-point line. Big Ten teams are shooting 40.6 percent from beyond the arc against the Boilermakers and the Hoosiers are the league's best 3-point shooting team. Indiana will still look to play through Cody Zeller first in this game, but ball movement is going to be pivotal on the perimeter to find open shooters.
Beyond the 3-point defense, Saturday should be a good opportunity to pound the ball inside to Zeller. Purdue is allowing a 2-point field goal percentage of 50.2 percent and they're blocking just 7.9 percent of shot attempts. If Zeller can establish himself early, trips to the foul line could follow. The Boilermakers are allowing an opponent free throw rate of 37.1 percent, which is fourth-worst in the conference. If Purdue elects to go small, Robbie Hummel will likely draw the Zeller assignment. A bigger lineup would mean Travis Carroll starts out on Cody.
Tom Crean has talked about his team doing a better job of valuing "possession-by-possession" and this is an area where the Hoosiers could be exploited if they allow Purdue to turn them over at a high rate. The reason? Purdue rarely turns the ball over. No team in the country turns it over less.
But beyond the absurdly low turnover rate, the rest of Purdue's offense is average. Their effective field goal percentage in league play is 48.8. Purdue is rebounding just 28.5 percent of its misses, which is third-worst in the Big Ten. Their free throw rate (FTA/FGA) of 34.4 is in the bottom half of the league and when they do get to the line, the Boilermakers are shooting just 64.2 percent, the worst mark in league play.
MEET THE BOILERMAKERS
Robbie Hummel is one of the best stories in all of college basketball given his successful return from two ACL surgeries. The senior from Valparaiso leads the team in both scoring (15.0 ppg) and rebounding (6.0 rpg). Hummel is shooting 35 percent on threes, but that number is down nearly ten percent (25.6) in conference games.
Lewis Jackson and Ryne Smith have started every game alongside Hummel and both players have carved out significant roles. Jackson isn't a threat from the perimeter, but excels at getting into the lane and to the foul line. His 94 free throw attempts lead Purdue. Jackson, who has battled both plantar fasciitis and back spasms, also has the third best assist rate (32.3) in the conference behind Penn State's Tim Frazier and Iowa's Bryce Cartwright. Smith's primary responsibility is knocking down perimeter shots. He's hit 56 of his 134 attempts and Indiana cannot afford to let him get rolling.
Sophomore Terone Johnson and junior Kelsey Barlow will also factor heavily into Purdue's game plan and both players will try to get into the lane rather than settling for jump shots. Johnson is hitting almost 55 percent of his 2-point attempts, but just 33 percent from the foul line. Barlow is one of the Big Ten's better defenders that likes to be physical, but offers little from an efficiency standpoint offensively (44.4 eFG%). D.J. Byrd is a capable 3-point shooter, but his minutes are down from 20.6 as a sophomore to 15.1 in his junior season.
Besides Hummel, Purdue's frontcourt has been a rotation that's bearing little production. Sophomores Travis Carroll and Sandi Marcius and freshman Jacob Lawson have all started at some point, but their success has been marginal. Lawson may have the most potential of the group and has been the best defender from a shot blocking perspective. Carroll is playing the most minutes (16.7), but offers pedestrian production (3.0 ppg and 3.2 rpg).
WHAT IT COMES DOWN TO
Indiana's road struggles are well-documented and until the Hoosiers can break through against the upper half of the league away from Assembly Hall, they won't (and shouldn't) be favored to win. On paper, there are plenty of favorable matchups titled in IU's favor, but home court advantage often trumps all in Big Ten play.
At this point of the season, Purdue's struggles to defend the perimeter are not an anomaly. It's an area Indiana must seek to exploit given their strength in that area. If Purdue chooses to collapse on Zeller, kicking the ball out and swinging it around should produce open looks. And if Zeller gets opportunities to face up and go against one man, finishing stronger could be the difference between an average night and an exceptional night for the freshman.
Turnovers are also a concern for Indiana as Purdue is forcing a defensive turnover percentage of 20 in conference games and the Hoosiers are coughing it up on 20.7 percent of their possessions in league play.
Most importantly, the Hoosiers must put up more resistance defensively. Purdue is an average Big Ten offense without a post scoring presence. They can negate that weakness if the Hoosiers allow dribble penetration from Jackson, Barlow and Johnson who can all finish or kick it out to shooters like Byrd, Hummel or Smith.
Pomeroy likes Indiana to win 73-72 and puts the percentages of a victory at 53%.
QUICK FACTS ON PURDUE
All-time series: Purdue leads 112-84
Location: West Lafayette, Indiana
Student Enrollment: 39,726
Established: 1869
Filed to: Purdue Boilermakers