Notebook: Crean unhappy with starting lineup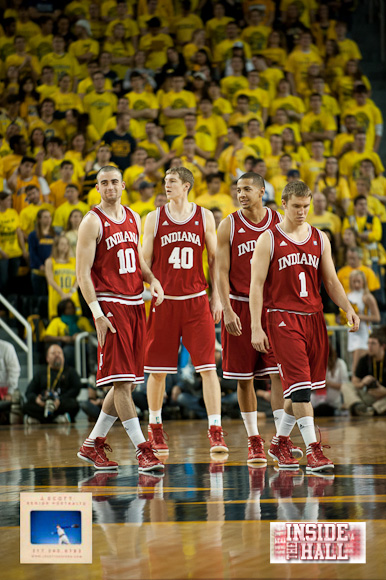 ANN ARBOR, Mi. — Tom Crean didn't have kind words for his starting lineup, calling it "a joke."
It was Michigan's 13-0 start in the first four-plus minutes that got the Hoosiers behind the eight ball before they knew what hit them in Wednesday's 68-56 loss to Michigan at the Crisler Center. The deficit swelled to 20 at one point in the first half.
"The start of the game, we allowed a very good team to play like a great team, because our players came out like they'd seen a ghost," Crean said. "You cannot come out and not have a physical presence right off the bat. You can't come out and give that kind of space to a team that's as good as Michigan. … We knew we were going to be in position to come back if we just settled in."
The Hoosiers were able to cut it down to two points in the second half, but could never get over that hump. The start put them in a hole they were never able to climb out of.
Instead of calling a timeout to try to gather his team during the early run, Crean wanted his guys to play through it. He felt it was pretty simple what needed to be done.
"It wasn't anything that a timeout was going to correct, in that sense, in the first couple minutes of the game," Crean said. "It's going out and doing what we practiced. You want to give guys a chance to get into the flow of the game, but (the
Wolverines) weren't doing anything different. … I wasn't concerned about they were doing, I was more concerned about what we were doing."
ABELL TO MAKE THE MOST OF IT
In an attempt to get something going, freshman guard Remy Abell saw 16 minutes of action and chipped in four points and two rebounds on the night. All four points came in the first five minutes of the second half, as the Hoosiers made a
charge to get back into the game.
Abell had played 12 total minutes in the previous four games since his career-high 18 minutes against Minnesota on Jan. 12.
"He did an excellent job. He's a fearless guy," Crean said of Abell. "He's an excellent athlete and he's like Matt Roth with his shooting. Matt is going to be able to make them wherever he goes. … I think Remy can play in any environment. He's got that kind of toughness. He'll play more. There's no doubt about that."
JONES BRUISES SHOULDER
Late in the first half, Verdell Jones III injured his right shoulder when he was fouled while dribbling at the top of the key. He went straight to the bench and didn't move his arm as the Hoosiers headed into the locker room. He did not return to the game.
"Verdell has got a bruised shoulder right now," Crean said. "We'll evaluate it more tomorrow. That's where he stands."
Chris Vannini is a freelance sports journalist in Michigan who has covered Michigan State athletics and the Detroit Tigers over the past four years. You can follow him on Twitter at @ChrisVannini and contact him at [email protected].
Filed to: Michigan Wolverines, Remy Abell, Tom Crean