Confidence keys production for Elston, Pritchard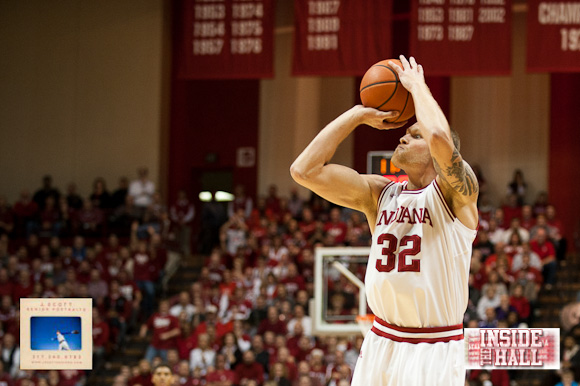 Derek Elston's impact was felt almost immediately.
He entered the game Sunday night against Iowa and promptly knocked down a 3-pointer from the right corner. The next time down the floor, he hit another jumper from the right side. Then after blocking a shot, Elston raced down the court and nailed a transition 3 from the left wing.
Eight points and a block in 68 seconds, and the Hoosiers were well on their way to a 103-89 win.
"Once I saw that first one kind of go down, that's how it kind of goes for me shooting-wise," Elston said. "If I make my first couple ones, I have the potential to have a good game."
Elston, like Tom Pritchard, had a big game off the bench for Indiana. But Elston and Pritchard aren't always such key contributors. Their success is usually determined by their confidence on a given day, and they seem to play with more confidence in the comforts of Assembly Hall.
In the No. 20 Hoosiers' five Big Ten road games, Elston and Pritchard have combined for only 16 points and 16 rebounds. That's an average of less than two points and two rebounds per contest for each player.
In Indiana's five conference home games, however, the bench duo has combined for 34 points and 24 rebounds.
The difference? It seems simple enough.
"We want Derek to play with confidence," Indiana coach Tom Crean said after the win against Iowa. "We want him to shoot the ball. He's one of our absolute best shooters.  Sometimes he gets away from that and needs a reminder that he's that good. The last thing we want Derek to do is to play where's he got to be thinking too much. … He just needs to play."
On Sunday, Elston and Pritchard provided the spark necessary to help the Hoosiers put Iowa away. Elston knocked down big shots, Pritchard took charges and got rebounds.
When the Hoosiers (17-5, 5-5) travel to Ann Arbor to play Michigan at 6:30 p.m. tonight, they'll need that spark that has been missing in some road games this season. Indiana didn't have enough of a push to put either Michigan State or Nebraska away when it go them down late.
Crean and the Hoosiers simply have to look at the tape from Sunday to see the impact a guy like Pritchard is capable of having.
"Very active, a lot of energy," Crean said of Pritchard. "When he's confident going up and making baskets, boy that energizes our entire team. That's like a Matt Roth 3 or a Victor (Oladipo) or Will (Sheehey) dunk for us because our players love him. … When he's aggressive like that, it makes a huge difference in our team."
Filed to: Derek Elston, Tom Pritchard