Big Ten Power Rankings: Week 6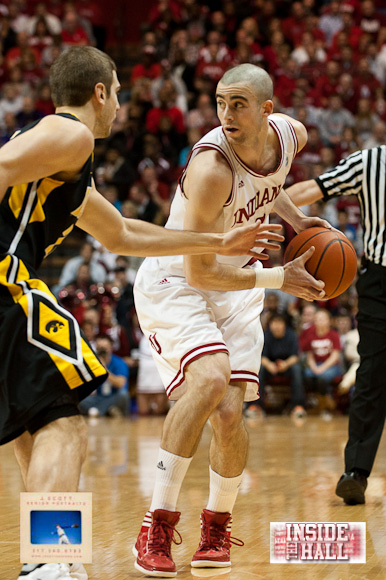 There's finally some consistency in the power rankings. The top eight teams stayed in the same order as last week, and only Nebraska, Iowa and Northwestern moved at all.
As the conference's top teams start to play each other, there should be more and more separation. Or it could just remain a jumbled mess. Who knows.
Without further ado, the sixth edition of Inside the Hall's Big Ten power rankings.
12. Penn State (10-12, 2-7) (LAST WEEK: 12)…The Nittany Lions are in the midst of the most difficult stretch on their schedule, and they haven't fared well. After falling at Indiana and at Ohio State, Penn State now faces games against Wisconsin, at Iowa, and at Michigan State.
11. Northwestern (12-8, 2-6) (LAST WEEK: 10)…The slide continued with a home loss to Purdue on Saturday. The Wildcats have lost three consecutive games since upsetting Michigan State.
10. Iowa (11-11, 3-6) (LAST WEEK: 9)…The Hawkeyes surprised everybody with road wins against Wisconsin and Minnesota to begin the conference season, but they've lost five of six and are sinking fast.

9. Nebraska (11-9, 3-6) (LAST WEEK: 11)…They're not flashy, but the Cornhuskers keep getting better. Their win at Iowa last week may have turned the Hawkeyes' season in the wrong direction.

8. Illinois (15-6, 4-4) (LAST WEEK: 8)…The Fighting Illini were 4-1 after an upset of Ohio State, but they've dropped three straight with a game against Michigan State still to come on Tuesday.
7. Minnesota (16-6, 4-5) (LAST WEEK: 7)…An overtime win against Illinois has the Golden Gophers back in the middle of the Big Ten pack. Even without Trevor Mbakwe, they've won four out of their last five.
6. Purdue (15-7, 5-4) (LAST WEEK: 6)…The Boilermakers don't play again until Saturday when they host Indiana. That could be a critical game for the Boilers' NCAA tournament hopes.
5. Indiana (17-5, 5-5) (LAST WEEK: 5)…The Hoosiers played well in a loss at Wisconsin, but couldn't come up with any key rebounds late. They rebounded for a much-needed win against Iowa, but the lack of defense is still alarming.

4. Wisconsin (17-5, 6-3) (LAST WEEK: 4)…The Badgers are the conference's hottest team. They've won five straight games, and they're fresh off an impressive win against Indiana.

3. Michigan (16-6, 6-3) (LAST WEEK: 3)…The Wolverines are practically unbeatable at home, and they played with Ohio State on the road Sunday afternoon. Trey Burke is the real deal. Now if only Tim Hardaway Jr. would take better shots.

2. Michigan State (17-4, 6-2) (LAST WEEK: 2)…They took care of Minnesota at home, but will the Spartans suffer the same fate as Ohio State when they visit Illinois on Tuesday?

1. Ohio State (19-3, 7-2) (LAST WEEK: 1)…Michigan gave them a battle for a while, but the Buckeyes are starting to look like the unbeatable team many thought they could be before the season. They still have plenty have challenges left on the schedule, however, starting with a road contest against Wisconsin on Saturday.
Filed to: Big Ten Power Rankings