Crean's message to Zeller: Just keep getting better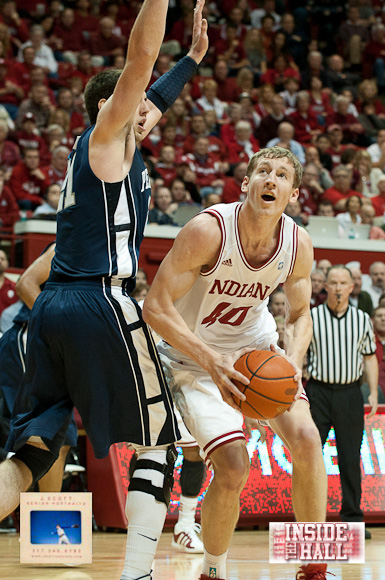 Cody Zeller was never able to get into a rhythm in Indiana's 57-50 loss at Wisconsin on Thursday night because of foul trouble.
IU's freshman center was scoreless in the first half and finished the game with only seven points and three rebounds in 19 minutes.
He was the subject of some borderline foul calls that changed the game for the Hoosiers. Zeller picked up his second foul on what appeared to be a charge after a long defensive possession for Indiana.
Instead, Zeller was called for a blocking foul and was forced to go to the bench for the remainder of the half.
"We spend a lot of time making sure we understand that block-charge line," said Indiana coach Tom Crean. "We're rarely gonna try to draw a charge where we're anywhere near the lane, and we're gonna be set. So the other day when Cody gets called for a blocking foul, and you can show him, 'that's not what happened. You took a charge. Let's keep doing it.'"
Late in the second half, Wisconsin's Mike Brusewitz appeared to shove Zeller to the ground to get an offensive rebound, but no foul was called.
"There's nothing you can tell a guy when he get thrown to the ground on how to block out better," Crean said. "You're not going to do that.
"When you teach the right things, you expect to be rewarded for it in a game. You expect the game to be called in the last two minutes the same way it is in the first two minutes. Those are the expectations you have as a coach and a program going into a game. It doesn't always turn out that way."
Frustration hasn't come often for Zeller this season. The last time he didn't score in double figures was in the conference opener at Michigan State on Dec. 28. In the six games between the Michigan State and Wisconsin contests, Zeller averaged 19.5 points per game and made 67 percent of his shots from the field.
Crean said Zeller has remained level-headed through both the good performances and the bad ones.
"There's none of us that want him to do anything more than play," Crean said, "because he was so well schooled when he got here, so we want to make sure we're continuing to school those aspects on the speed of this game.
"If I was frustrated with Cody or if I was upset, then he should have something to thing about. I'm not. I'm just challenging him to be better."
Filed to: Cody Zeller