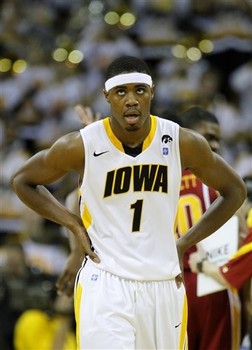 Following a 57-50 road loss to No. 25 Wisconsin, the Hoosiers look to get back to .500 in Big Ten play when they host Iowa on Sunday night in Assembly Hall. Indiana last defeated the Hawkeyes on February 4, 2009 for Tom Crean's first conference win.
The game will be shown on the Big Ten Network (Eric Collins and Dan Bonner) and broadcast on the IU radio network (Sirius 92/XM 190):
There is, believe it or not, some positive news coming out of Indiana's loss on Thursday night to the Badgers. Indiana's defense, which was a fair point for criticism during the Hoosiers' three-game losing streak, is trending in the right direction. It hasn't been a sizable jump, but the metrics have moved. Indiana is out of the basement — they're now tenth — in opponent points per possession. The Hoosiers are eighth in defensive effective field goal percentage. And their absurdly high opponent free throw rate of a season ago (52.2 in league play) is no longer a glaring weakness.
Iowa is a team that presents an opportunity for the Hoosiers to continue their recent improved play on D if they come out with the intensity and focus exhibited in Madison. The Hawkeyes, who are 3-5 in Big Ten play, are coming off a home loss to Nebraska on Thursday. Their reliance on the 3-point shot is minimal, so guarding dribble penetration, points in the paint and locking down the defensive boards are three factors that loom large.
Iowa is currently the worst defensive team in the Big Ten in large part because they're allowing opponents to shoot 56.5 percent on 2-point field goals. Their defensive turnover percentage (16.5) and defensive rebounding percentage (35.2) are both in the bottom three of the league. Rather than settling from the perimeter, looking for Cody Zeller and driving the ball into the lane like we saw in Madison should be an effective way to attack.
MEET THE HAWKEYES
A pair of guards — Matt Gatens and Roy Devyn Marble — are the two Hawkeyes scoring in double figures. Gatens is easily Iowa's most efficient offensive player. He's hitting 53.3 percent of his twos and while he can step out and hit the three, is most effective when attacking the basket. The same goes for Marble, an athletic sophomore who rarely looks for a shot on the perimeter but uses ability to penetrate to get himself to the foul line.
Eric May, who has started all 21 games but is averaging just 20 minutes, can also be effective off the dribble but rarely looks for his shot. Bryce Cartwright, who lost his starting job to Marble and battled hamstring injuries earlier in the season, leads the team with 80 assists but is shooting just 36 percent on 2-point field goals and 17 percent on threes. Freshman Josh Oglesby provides McCaffery with a shooter off the bench that can knock down shots if left alone.
Up front, sophomore Melshan Basabe is one of the better defensive rebounders and shot blockers in the Big Ten, but has struggled to find consistency offensively. He's hitting just 50 percent of his field goal attempts compared to 57 percent last season. Freshman Aaron White has been among the conference's top five newcomers and is Iowa's third leading scorer (9.7 ppg) in a sixth man role. White is an effective rebounder on both ends and gets to the line at a very effective clip (56.6 free throw rate). Zach McCabe, a 6-foot-7 sophomore, crashes the offensive glass hard and can also knock down perimeter looks.
WHAT IT COMES DOWN TO
Pomeroy has IU running away from Iowa in a high-scoring affair — 89-70 — and gives the Hoosiers a 92% chance of winning.
Given the high number of possessions both teams are averaging, this game will be a stark contrast to the Wisconsin game. The area where Iowa can really pose problems is dribble penetration and in transition. The difference between the Hawkeyes and a team like Penn State with Tim Frazier is the volume of guys that will attempt to get into the lane. Gatens, Cartwright and Marble are all capable of breaking Indiana down off the dribble, so help defense is going to be critical.
QUICK FACTS ON IOWA
All-time series: Indiana leads 94-73
Location: Iowa City, Iowa
Student Enrollment: 30,328
Established: 1847
Filed to: Iowa Hawkeyes