Notebook: Foul trouble limits Zeller's minutes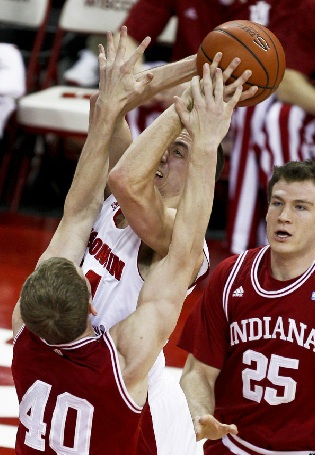 MADISON, Wis. — One glance at the Wisconsin roster showed few options tall or athletic enough to stop Cody Zeller.
But Zeller, who entered Thursday night's game averaging 15.1 points per game, went scoreless in the first half and finished with just seven points in 19 minutes.
The 6-foot-11 freshman picked up his second foul that forced him to the bench for the final 4:30 of the first half and as a result, he never established much of a rhythm.
"There were a couple times we tried to feed him the ball, they three-quartered, and we didn't give him a chance to set up and post up the way that he needed to," coach Tom Crean said. "We tried to force the ball in rather than allow him to get set."
Christian Watford — who helped compensate for Zeller's absence with 12 points — admitted that Zeller's time on the bench made things difficult for the Hoosiers.
"It hurt us a lot, having an inside presence like Cody, he's been there for us all year," Watford said. "He was in foul trouble, but there's still no excuse. Other guys got to step up."
HOOSIERS SHOOT WELL ENOUGH TO WIN
Indiana had no trouble finding the bottom of the net Thursday night, but posted a season-low 50 points in large part because of Wisconsin's deliberate pace.
The Hoosiers hit 50 percent of their first half shots, finished at 45.7 percent for the game and put together an 11-0 scoring run midway through the first half.
Though Crean felt his team adjusted nicely to Bo Ryan's pass-heavy swing offense, he noted that key rebounds down the stretch may have been the difference.
"We answered the bell on the pace of play," Crean said. "They're going to play at a snail's pace, it's what they do, and you've got to steal possessions. We rebounded the ball very well for most of the game. They got a couple of big rebounds at the end. We struggled getting those balls."
JONES SAYS HOOSIERS MUST WORK ON PLAYING 40
Verdell Jones III had no trouble scoring against the Wisconsin's stingy defense in the first half. The senior guard finished the game's first 20 minutes with 12 points on 6-of-7 shooting.
But Jones went scoreless the rest of the way, and expressed his frustration with never bringing down the Badgers at the Kohl Center.
"This is my last go around here in Madison, and that's the most frustrating thing about it, not getting a chance to beat them," he said.
After dropping four of their last five games — three of them by seven points or less — the Hoosiers believe that nothing more than a few offensive boards or an untimely turnover is keeping them from victory.
"It's very frustrating, especially when we preach in practice 40 minutes, 40 minutes, then we only play 38," Jones said. "It's tough and it's something we got to work on."
Ian McCue is a junior studying journalism at the University of Wisconsin-Madison. As the associate sports editor for the student newspaper, The Badger Herald, he has covered sports ranging from football to cross country.
(Photo credit: Andy Manis/Associated Press)
Filed to: Cody Zeller, Tom Crean, Verdell Jones, Wisconsin Badgers