What to Expect: Wisconsin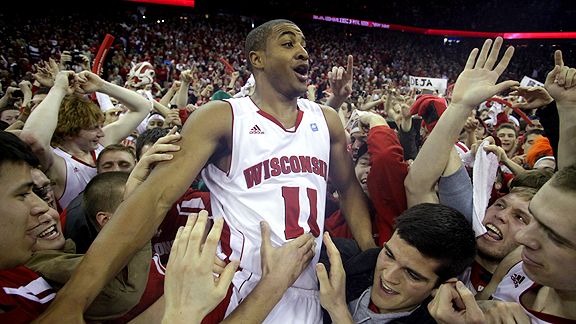 Following a solid 73-54 win over Penn State on Sunday at Assembly Hall, the Hoosiers will travel to the Kohl Center on Thursday night for a meeting with No. 25 Wisconsin. Indiana last won in Madison on January 25, 1998.
The game will be shown on the ESPN2 (Dave O'Brien and Stephen Bardo) and broadcast on the IU radio network:
If Indiana hopes to reverse a two-game road skid in Big Ten play, the Hoosiers must do so against the Big Ten's hottest team over the past two weeks. After many questioned Wisconsin's ability to finish in the upper tier of the conference, Bo Ryan's club responded with a four-game winning streak and a return to the top 25.
So what's led to the turnaround in Madison? A return to form by point guard Jordan Taylor, last week's Big Ten player of the week, paired with one of the country's elite defenses. No team in the conference imposes its style of play on the opposition more effectively than the Badgers. Wisconsin is playing the slowest tempo (average of 58.8 possessions per game) and is also giving up second fewest points per possession — 0.96 — in league play.
By comparison, the Hoosiers play the third fastest pace in the conference at 66.5 possessions per game. Tom Crean talked about the importance of his team valuing each possession on his radio show Monday night and this game, perhaps more than any other, will bring that storyline to the forefront.
MEET THE BADGERS
Taylor, who entered the season as one of the favorites for Big Ten Player of the Year, has experienced a regression statistically through 21 games. His 3-point percentage has dropped almost 10 percent. And while his assist and turnover numbers are off from a season ago, they're still among the best in the Big Ten. Given his improved play over the last few weeks coupled with the Badgers' winning streak, he's still right in the mix as one of the league's top players. As Indiana fans witnessed last March in Assembly Hall, Taylor is a player capable of taking a game over and winning it on his own.
Josh Gasser joins Taylor as a starter in the backcourt and Ben Brust is the Badgers' sixth man who is playing minutes comparable to a starter. Gasser doesn't look to shoot or score much, but he's hit 26 of his 50 attempts from 3. Brust is much more assertive in hunting looks (41-of-105 from 3), but shoots a much lower percentage.
The Badgers only play eight players with any regularity and their frontcourt minutes are dominated by juniors Ryan Evans, Mike Bruesewitz and Jared Berggren. The 6-foot-10 Berggren is the team's second leading scorer and rebounder. Nearly 40 percent of his field goal attempts have come behind the 3-point line, where he's shooting 37 percent. The 6-foot-6 Evans is one of five best defensive rebounders in the conference, but shoots just 46.3 percent on his 2-point attempts. And Bruesewitz, a 6-foot-6 wing, is even more limited offensively, but sports a solid offensive rebounding percentage (9.9).
WHAT IT COMES DOWN TO
The key for the Hoosiers to beat Wisconsin is getting stops at a much more frequent rate than we've seen in recent weeks. Taylor, if he gets on a roll, can become impossible to stop in isolation and ball screen situations. In the Badgers' three straight Big Ten losses to Iowa, Michigan State and Michigan, they failed to shoot an effective field goal percentage higher than 38.2 percent. The Hoosiers have held one Big Ten opponent — Penn State this past Sunday — to 38 percent or less.
Pomeroy likes the Badgers by a final score of 66-58 and gives the Hoosiers just a 22 percent chance of leaving the Kohl Center with a win.
CREAN ON WISCONSIN FROM MONDAY'S BIG TEN CALL
"Their experience, they know how to play."
"They have numerous guys that can play at a really high level."
"I think when they've been at their best they've had really good balance."
"Jared Berggren is really playing at a high level right now."
"Their system is very strong and solid. They're hard to score against. They pack the lane. But at the same time, they've got a lot of balance in their scoring and people that really space the court which puts a lot of pressure on not only your on-the-ball defense, but your help defense."
QUICK FACTS ON WISCONSIN
All-time series: Indiana leads 94-63
Location: Madison, Wisconsin
Student Enrollment: 42,099
Established: 1848
Filed to: Jordan Taylor, Wisconsin Badgers