Big Ten Power Rankings: Week 5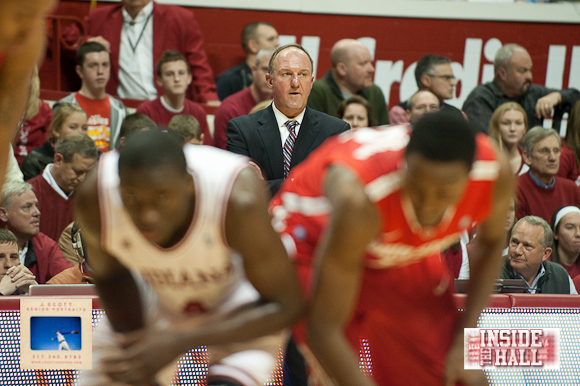 After another week full of upsets in the conference, we bring you our fifth edition of power rankings this season. Last week's No. 1 (Illinois) lost to last week's No. 12 (Penn State). Last week's No. 11 (Nebraska) beat last week's No. 4 (Indiana). And then both Penn State and Nebraska suffered blowout losses in their next games. If nothing else, this week of conference play proved once again just how difficult it is to win on the road in the Big Ten.
12. Penn State (10-11, 2-6) (LAST WEEK: 12)…Impressive home win against Illinois, but the Nittany Lions still have only one road victory this season. If they are going to get better, they need to find a second scorer after Tim Frazier.
11. Nebraska (10-9, 2-6) (LAST WEEK: 11)…Nice upset of Indiana, but the Hoosiers were as much responsible for giving that game away as the Cornhuskers were for taking it. They finished the week with a 34-point home loss to Ohio State.
10. Northwestern (12-7, 2-5) (LAST WEEK: 7)…The Wildcats have struggled since their upset of Michigan State on Jan. 14. It's still hard to know what to make of this team. They've lost their last two games by a combined 43 points, including a 75-52 beatdown at Minnesota on Sunday.
9. Iowa (11-9, 3-4) (LAST WEEK: 8)…You never know what you're going to get with the Hawkeyes. They won at Wisconsin and at Minnesota, and they beat Michigan at home. But they've also lost twice to Purdue and fell to the conference's top two teams (Ohio State and Michigan State) by a combined 63 points.
8. Illinois (15-5, 4-3) (LAST WEEK: 1)…Well, the Fighting Illini didn't last long in the top 25. They proved that their win against Ohio State was probably a fluke by falling at Penn State and at home against Wisconsin last week.
7. Minnesota (15-5, 3-4) (LAST WEEK: 10)…Don't look now, but the Golden Gophers have won three games in a row after losing their first four on the conference slate. They dominated the Nittany Lions on the road — something few teams have done — and followed it up with an impressive 23-point win against Northwestern.
6. Purdue (14-6, 4-3) (LAST WEEK: 6)…Inconsistency is the best word to describe the Boilermakers. Win one, lose one, win one, lose one. They haven't won back-to-back games since they opened the conference season with wins against Iowa and Illinois. They beat Iowa again last week, but then got hammered by 25 points at Michigan State.
5. Indiana (16-4, 4-4) (LAST WEEK: 4)…The Hoosiers bounced back nicely after a disappointing loss at Nebraska to beat Penn State, but they've still struggled of late. A Thursday night game at Wisconsin should be a good test for the overachieving Hoosiers.
4. Wisconsin (16-5, 5-3) (LAST WEEK: 9)…The Badgers have won four straight after a rough start, including a four-point win at Illinois on Sunday. Wisconsin is as hot and as dangerous as any team in the conference right now.
3. Michigan (15-5, 5-2) (LAST WEEK: 5)…The Wolverines suffered a disappointing loss at Arkansas on Saturday, but it still had to be a good week in Ann Arbor after they beat rival Michigan State. Michigan has to go on the road twice this week, to Purdue and Ohio State.
2. Michigan State (16-4, 5-2) (LAST WEEK: 2)…The Spartans needed a win badly after two road losses, and they got it against Purdue on Saturday. They were just a last-second shot away from beating Michigan and going 2-0 on the week.
1. Ohio State (17-3, 5-2) (LAST WEEK: 3)…The Buckeyes have won by at least 17 points in all five of their Big Ten victories, including four wins by 29 or more points. They are by far the most dominant team in the conference and, with two home games coming this week, they should own the top spot in our power rankings for quite a while.
Filed to: Big Ten Power Rankings